Genetic improvement of microorganisms for applications in biorefineries
Chemical and Biological Technologies in Agriculture
2014
1:21
Received: 1 April 2014
Accepted: 7 October 2014
Published: 29 October 2014
Abstract
The development of biorefineries directed to the production of fuels, chemicals and energy is important to reduce economic dependence and environmental impacts of a petroleum-based economy. Microorganisms are essential in several industrial bioprocesses nowadays, and it is expected that new microbial bioprocesses will play a key role in biorefineries. However, the bioconversion process requires a robust and highly productive microorganism. In this scenario, several strategies to genetically improve microorganisms to overcome the bioprocesses challenges have been considered. In this work, we review microorganisms importance in the biorefineries concept, highlight the desirable traits they must hold in order to be employed, and discuss the main strategies to improve such traits. The focuses of this work are on four main targets in the improvement of microorganisms: driving carbon flux towards the desired pathway, increasing tolerance to toxic compounds, increasing substrate uptake range and new products generation.
Keywords
Microorganisms
Biorefineries
Bioprocess
Metabolic engineering
Genetic engineering
Evolutionary engineering
1Introduction
The interest in renewable and sustainable biotechnological processes for energy, biofuels and chemicals production has been increasing over the years. Economical and environmental factors have been pushing the chemical industry, for instance, to invest in new means to get the same products in a more sustainable and economical way. It is estimated that by 2025, 15% of global chemical sales will be bio-derived [1]. In this context, the development of biorefineries appears as an important alternative to the common known petroleum-based processes and products. Biorefineries can be defined as "the sustainable processing of biomass into a spectrum of marketable products (food, feed, material, chemicals) and energy (fuels, power, heat) [2]. Chemical, physical and biological processes can be employed in a biorefinery to convert biomass into a large spectrum of products of interest [2]. The biorefinery concept is attractive because it would allow production of high added-value compounds and/or big volumes of biofuels, with market competitive prices, while reducing waste disposal and energy costs. In addition, always taking into consideration the sustainability of the process and its indirect impacts (such as water use, impact on soil and biodiversity and competition for food). Few biorefineries have been in operation for several years, for instance, the pulp and paper based biorefinery Borregaard, in Norway [3], but there is still immense potential to be developed in several countries [2].
Microorganisms are main characters in industrial bioprocesses, being directly responsible for the production of the desired chemical, or indirectly providing important components for the processes. Indeed, there are several industrial processes in operation around the world based on microorganisms for production of food additives, enzymes and chemicals; for instance, the bioethanol industry from sugarcane in Brazil. Due to their versatility, microorganisms are also expected to play an essential role in conversion processes employed in biorefineries.
The development of biorefineries brings new opportunities and challenges to the industrial application of microorganisms. New substrates may be used and a variety of products formed; however, strains adapted to the industrial processes need to be developed. Based on the feedstock characteristics and desired products, a microbial strain and a production process optimization are needed to achieve an ideal conversion process (Figure
1
). This led research groups from several institutions worldwide to start developing microbial strains for application in biorefineries and nowadays there are many promising experimental processes being developed. This work focuses on the importance of microorganisms in industries, summarizes and discusses the main targets for microbial improvement and the strategies currently employed to generate and improve strains to achieve commercial, technological and environmentally viable industrial processes (Figure
1
). In addition, we highlight and exemplify general strategies to develop microorganisms that are able to produce fuels and chemicals from renewable feedstocks.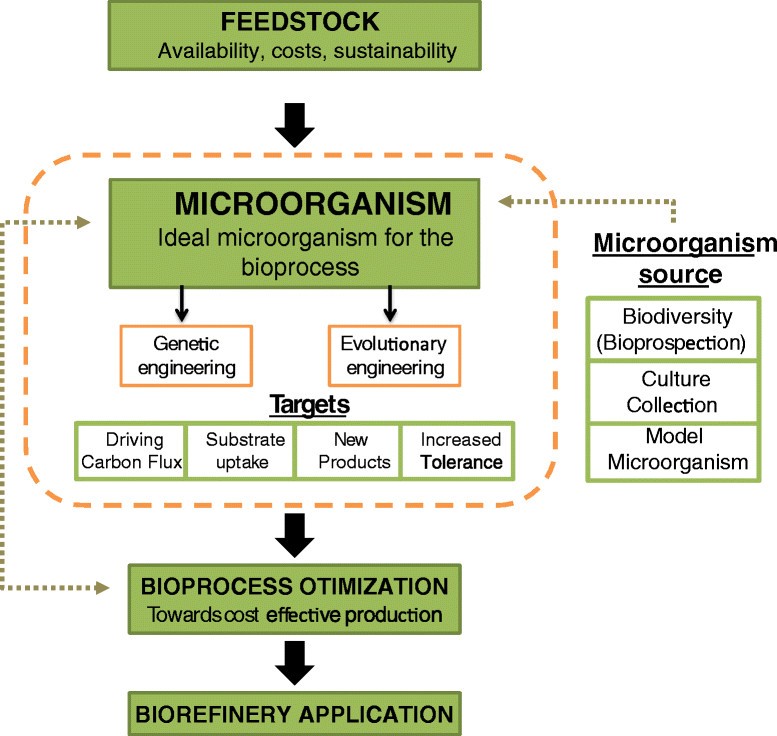 3Conclusion
Several microbial-based bioprocesses are currently used in industry, and new ones should be established within the biorefinery context. To meet specific demands of the industry, which requires microbial strains able to produce fuels and chemicals from different renewable resources in high yields and productivity, researchers have been constructing and genetically improving microbial strains. The focus of these improvements can be grouped in four main categories: i) driving carbon flux towards the desired pathway, ii) increasing tolerance to toxic compounds, iii) increasing substrate uptake range, and iv) generation of new products. Thanks to the advances of genomic and molecular analysis techniques, and systemic analysis tools, microorganisms able to produce a variety of biofuels and chemicals from lignocellulose and other substrates, with production capacities in magnitudes orders higher than native ones, are currently available in the literature. Further studies concerning such microorganisms and their potential, are expected to contribute significantly to the development of bioprocesses within the biorefinery concept.
Declarations
Acknowledgement
This work was financially supported by EMBRAPA (Brazilian Agricultural Research Corporation) and CNPq (Brazilian National Council for Scientific and Technological Development). BGP receive a scholarship from CAPES (Coordination for the Improvement of Higher Level Education Personnel).
Authors' Affiliations
(1)
Cellular Biology Department Institute of Biological Sciences University of Brasília, Brasilia, Brazil
(2)
Embrapa Agroenergy, Parque Estação Biológica W3 Norte, Brasília, Brazil
Copyright
© Paes and Almeida; licensee Springer. 2014
This article is published under license to BioMed Central Ltd. This is an Open Access article distributed under the terms of the Creative Commons Attribution License (http://creativecommons.org/licenses/by/4.0), which permits unrestricted use, distribution, and reproduction in any medium, provided the original work is properly credited.