Ferrocene in agriculture: from agrochemicals and soil remediation to selective chemosensors
Chemical and Biological Technologies in Agriculture
2015
2:15
Received: 12 February 2015
Accepted: 26 March 2015
Published: 25 June 2015
Abstract
Ferrocene and derivatives find numerous applications in agriculture, both as agrochemicals and as catalysts, for selective synthesis of agrochemicals. Moreover, they can be used as surfactants in soil remediation and as selective colorimetric and electrochemical chemosensors for analytes of interest in agriculture.
Keywords
Ferrocenes
Agrochemicals
Enantioselective synthesis
Soil remediation
Chemosensors
Introduction
Organometallic compounds are generally air and moisture sensitive, need to be manipulated in inert atmosphere, preferably argon, and often must be kept at very low temperature. Thus, at a first sight, that an organometallic compound, although as stable as ferrocene, is related to agriculture may sound strange. Nevertheless, there are several ways for ferrocene and derivatives to be of use in the agriculture world. Agrochemicals can be linked to the ferrocenyl system either directly (for example, ferrocene-containing herbicides and fungicides) or indirectly, as catalysts in the synthesis of organic compounds of interest for agriculture. As a matter of fact, examples are not particularly numerous, but they are quite significant, as discussed in the following. Moreover, taking advantage of reliable redox properties and robustness of ferrocenes, analytical methods were developed to detect and quantify compounds of importance in crop protection and/or soil remediation as well as for environment control.
Ferrocene (Figure
1
) is a peculiar organometallic compound, with a sandwich structure where two cyclopentadienate (Cp) groups are coordinated to an iron atom, formally Fe(II). The (η
5
-Cp)
2
Fe has a 18 electrons closed shell, a remarkable stability at the air, especially in the solid state, and a reactivity similar to that of other aromatic species, that allowed extensive functionalization and the introduction of a huge number of substituents [
1
,
2
]. All these aspects favored the use of ferrocene and its derivatives in biological applications and in conjugation with biomolecules [
3
] and prompted the synthesis of compounds with potentiality as drugs [
4
].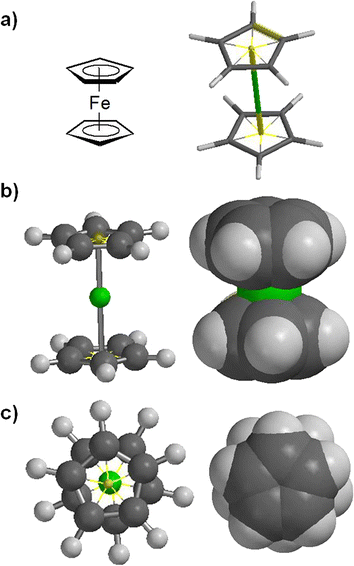 The present review is intended at offering the reader with a panorama of the most recent developments in the field. Therefore, the literature survey was limited to the last 10 years, with only occasional references to older papers.
Conclusions
This survey was intended at showing the multiform aspects of ferrocene contribution to agriculture. The applications emerged in the last 10 years are significant, but the feeling is that much more can be done and the best has yet to come. The wish is that the present review might raise curiosity and interest in the field.
Authors' Affiliations
(1)
Dipartimento di Scienze e Tecnologie Chimiche, Università di Roma Tor Vergata, Rome, Italy
Copyright
© Floris. 2015
This is an Open Access article distributed under the terms of the Creative Commons Attribution License (http://creativecommons.org/licenses/by/4.0), which permits unrestricted use, distribution, and reproduction in any medium, provided the original work is properly credited.