A renewable chemistry linked to the Brazilian biofuel production
Chemical and Biological Technologies in Agriculture
2014
1:13
Received: 20 March 2014
Accepted: 14 August 2014
Published: 27 August 2014
Abstract
The transition from the current dependence on non-renewable raw materials to biomass as an oil substitute has become a strategic challenge to the twenty-first century. Chemicals have the highest potential to add value on a vegetable biomass chain because of the importance of conventional chemical industry and fine chemical chemistry for different sectors of economy, highlighting compounds that may be used as building blocks, intermediates of synthesis and specialties. This review deals with the economic potential of residual biomass from biodiesel and bioethanol industries as a source of raw material to support the production of renewable chemicals. The focus is on illustrating the perspectives and challenges for the development of a Brazilian renewable chemical industry, considering that Brazil is one of the largest global producers of agro-industrial biomass for several purposes, especially for biofuels.
Keywords
Biofuels industry
Green chemistry
Biorefinery
Bioeconomy
Introduction
Biorefining and green chemistry are two concepts that focus on sustainable utilization of biomass creating value chains similar to those derived from the petroleum derivatives. There is a great synergy between the biorefineries and green chemistry, mainly regarding to minimisation of residues and environmental impacts for the creation of a green economy or bioeconomy [
1
],[
2
]. Therefore, the concepts of biorefining and green chemistry combine to create less impact on environment and comprise integrated sustainable systems (raw material, process, product and residues) according to technical parameters which take into account, among other aspects, the energy and mass balances, the life cycle analysis, and the application of practical principles to promote best practices for R&D and production processes [
3
],[
4
].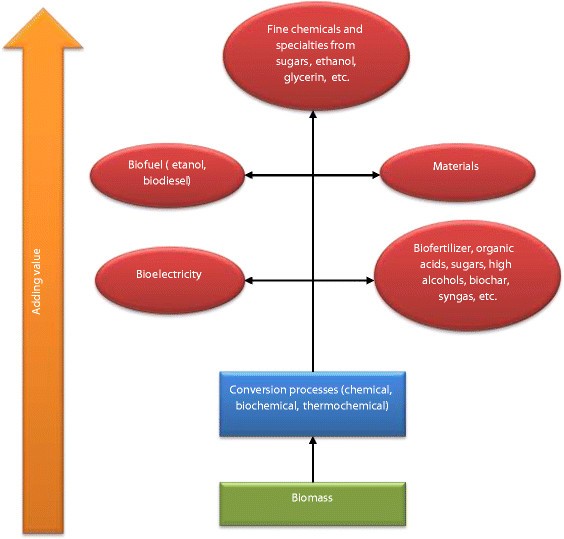 In terms of economic valorization [5], fine chemicals developed from biomass resulting from biofuel production have significant potential to generate additional revenue because of their strategic participation in the chemical industry which can be used as both inputs and final products in sectors such as pharmaceutical, automotive, construction, agribusiness, cosmetics, etc. Biofuels and materials are a second baseline of valorization, followed by energy and bulk chemicals or input chemicals, such as fertilizers and agrochemicals. In Brazil, efforts have been made to evaluate the economic potential of biomass to support the development of sustainable chemistry. On the other hand, we can verify a lack of studies linking possible profits from biomass in bulk chemicals, with the exception of those related to second generation ethanol (2G ethanol) and use of vinasse for soil fertilization [6],[7]. It is important to highlight that when it comes to biofuels, generating revenue from residual biomass is paramount to enable a reliable, economic productive process, with environmental and social gains [8].
The global market for chemical products is estimated at US$100 billion per year, from which 3% are related to bioproducts, or derivatives of biomass. It is expected that the production of biobased chemicals will have increased substantially by 2025 [9]. The increase in the demand for bio-derived chemical not only offers a great number of opportunities for green technologies, and processes which use residues in biorefineries, but also presents several challenges related to market prices and replacement of non-renewable products. Currently renewable materials is around 25% and it is expected to increase to 50%, and the current 10% participation of polymers may reach 20% [10].
In this article, we discuss the economic potential from renewable chemistry allied to biofuel production to contri bute to the creation sustainable chemistry in Brazil.
Conclusions
This article aimed to show the economic potential of the biofuel residues as a raw material for a Brazilian renewable chemistry, following the application of biorefinery and green chemistry concepts. A considerable economic potential is attributed to the development of high value molecules, which become synthetic building blocks, or intermediate specialty chemicals.
When evaluating target compounds considered as potentially valuable chemicals in other world regions, it is noticed that they do not always reflect the necessity of the Brazilian economy. This shows that detailed information are required from studies on the specific Brazilian conditions in order to reach the definition of a national scenario for technical-scientific planning and real development of an economic value.
The processes involved in the chemical, biochemical, and thermochemical conversion are fundamental for exploring the full potential of a Brazilian industry of renewable chemistry. Concomitantly, there is an evident need to setup strong actions to support the development of national technologies that take into account pre-treatments, catalysts, micro-organisms and logistics. Despite shortcomings and uncertainties, Brazil undoubtedly presents a breathtaking scenario to convert itself into a strong global player in the field of renewable chemistry.
Abbreviations
BNDES:

The Brazilian Development Bank
DOE-NREL:

US Department of Energy - National Renewable Energy Laboratory
FAPESP:

São Paulo Research Foundation
FINEP:

The Funding of Studies and projects
IPT:

The Institute for Technological Research
PHA:

Polyhydroxyalkanoate
POME:

Palm oil mill effluent
Authors' Affiliations
(1)
Embrapa Agroenergy, Parque Estação Biológica, Asa Norte, Brazil
Copyright
© Vaz; licensee Springer. 2014
This article is published under license to BioMed Central Ltd. This is an Open Access article distributed under the terms of the Creative Commons Attribution License (http://creativecommons.org/licenses/by/4.0), which permits unrestricted use, distribution, and reproduction in any medium, provided the original work is properly credited.