Plant growth promotion by streptomycetes: ecophysiology, mechanisms and applications
Jucimara Anunciação de Jesus Sousa

1 and

Fabio Lopes Olivares

1

Email author
Chemical and Biological Technologies in Agriculture
2016
3:24
Received: 13 January 2016
Accepted: 29 May 2016
Published: 3 August 2016
Abstract
The genus Streptomyces comprises filamentous Gram-positive bacteria that are widely recognized for their ability to produce bioactive compounds such as antimicrobial, antiparasitic and immune-suppressing compounds via secondary metabolism. These bioactive compounds represent a third of all commercially available antibiotics. Streptomycetes have been found in beneficial associations with plants where they have improved plant growth and protected against pests, which have attracted the attention of researchers worldwide. This review focuses on the potential of streptomycetes as plant growth-promoting bacteria (PGPS) and considers features related to secondary metabolic pathways, interactions with host plants and recent advances in elucidating plant growth-promoting mechanisms. Such advances in basic knowledge have increased the prospects for streptomycetes to be used as bioinoculants for sustainable agriculture.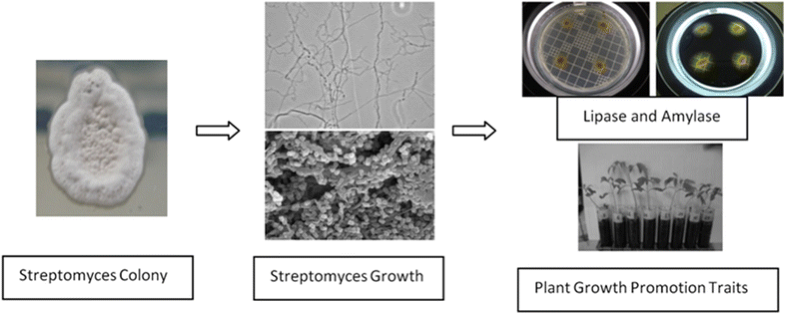 Keywords
Streptomyces
Actinobacteria
Biotechnological potential
Introduction
It has been estimated that the world's population will reach about nine billion by 2050 [1], which will require high levels of yield from agricultural systems. Centered on the Green Revolution model established in the last century, a range of research and technology transfer initiatives have been employed to meet the demand for food, fiber, and energy. However, it has become increasingly clear that the conventional systems of food production have many negative impacts on the environment [2].
To develop food production under environmentally and socially sustainable systems represents one of the twenty-first century's greatest challenges for agricultural researchers. One of the most promising initiatives for a new model of agriculture is based on converting the natural processes that occur in the soil–plant system into biological input technologies. In this context, microorganisms, their products and their processes are essential resources for a new generation of biotechnologies applicable to plant production and protection, and potentially a paradigm shift in agricultural practice.
Using plant growth-promoting bacteria (PGPB) for the benefit of agriculture has received increasing attention and acceptance [3–5]. Besides the well-studied Gram-negative plant-associated bacteria, Gram-positive bacteria can also have beneficial interactions with plants and promote plant growth [6–8]. Streptomyces is the most widely studied genus of Gram-positive PGPB and is the central subject of this review. This genus comprises a wide diversity of species that have a high G-C (guanine and cytosine) ratio in its DNA, up to 75 % of its genome [9]. This genus produces a wide variety of biologically active compounds; some with plant growth activity. It has been suggested by some authors that the increasingly intensive surveys of soil-borne microbes have resulted in a decreased frequency of newly discovered compounds [10]. However, the metabolic versatility and cosmopolitan behavior of Streptomyces species have enabled them to be isolated from different environments, some of which have not yet been explored, hence, presenting an opportunity to discover new bioactive compounds.
Morphogenetic and physiological aspects of the Streptomyces genus have been reviewed [11, 12]. Other reviews have focused on the biotechnological potential of plant-associated endophytic actinobacteria [10] and free-living plant growth-promoting actinobacteria [7]. This review presents an overview of the plant growth-promoting ability of various species from the genus Streptomyces; it considers historical aspects of their discovery, their physiological features, their plant growth mechanisms and their application as bioinoculants in agriculture.
Concluding remarks and perspectives
The greatest challenge for agriculture in the current century is to produce food for the increasing world population and to reduce the dependence on non-renewable resources and environmental impact. The use of plant growth-promoting microbes to enhance crop production has emerged as a sustainable and alternative tool to meet this challenge [141]. The most studied and technologically developed plant growth-promoting microbes mainly include rhizobia and other Gram-negative bacteria. However, besides their widely known ability to produce antibiotics, representatives of the Gram-positive genus Streptomyces have been found in beneficial associations with plants, including those of agronomic importance [64, 142–144]. The diversity of bioactive compounds produced by Streptomyces spp. includes substances capable of improving plant growth; hence, they are recognized as PGPS. Increased knowledge of secondary metabolic pathways involving the production of bioactive compounds and mechanisms of plant growth promotion by Streptomyces will be assisted by the rapid development of functional genomics and bioinformatics over the coming years. PGPS can promote plant growth by colonizing the rhizosphere or the endophytic plant environment. However, the interactions between rhizosphere PGPS and indigenous microbiota as well as the infection process performed by endophytic PGPS are still not clearly elucidated. Metagenomic approaches and the use of molecular markers such as fluorescent proteins will certainly contribute to the study of dynamic microbial populations in the plant rhizosphere, PGPS inoculation, and streptomycetes endophytic plant colonization. In addition, the use of PGPS as commercial biofertilizers is developing, but research into the design of bioinoculant formulations (such as additives, carriers, and delivery methods) will increase the plant growth and yields and acceptance by farmers around the world.
Declarations
Authors' contribution
JAJS and FLO contributed equally to this review. Both authors read and approved the final manuscript.
Competing interests
The authors declare that they have no competing interests.
Open AccessThis article is distributed under the terms of the Creative Commons Attribution 4.0 International License (http://creativecommons.org/licenses/by/4.0/), which permits unrestricted use, distribution, and reproduction in any medium, provided you give appropriate credit to the original author(s) and the source, provide a link to the Creative Commons license, and indicate if changes were made. The Creative Commons Public Domain Dedication waiver (http://creativecommons.org/publicdomain/zero/1.0/) applies to the data made available in this article, unless otherwise stated.
Authors' Affiliations
(1)
Laboratorio de Biologia Celular e Tecidual (LBCT) and Núcleo de Desenvolvimento de Insumos Biológicos para Agricultura (NUDIBA), Universidade Estadual do Norte Fluminense Darcy Ribeiro (UENF), Campos dos Goytacazes, Brazil