HRMAS NMR spectroscopy applications in agriculture
Chemical and Biological Technologies in Agriculture
2017
4:11
Received: 6 January 2017
Accepted: 5 February 2017
Published: 13 February 2017
Abstract
The relatively recent and advanced high-resolution magic angle spinning (HRMAS) NMR technique enables the direct application of NMR spectroscopy to semi-solid and gel-like samples. It combines the advantages of both solid- and liquid-state NMR by allowing to concomitantly measure intact and non-manipulated samples. Based on both 1D and 2D homo- and heteronuclear NMR spectra, HRMAS evaluates the composition of fresh semi-solid samples with a similar resolution as that of classical liquid-state NMR techniques. The enhanced spectral quality still obtained for semi-solid samples is mainly due to the MAS system, whose rapid spinning and sample orientation minimize the anisotropic processes that prevent the acquisition of meaningful NMR spectra for non-liquid materials. Moreover, HRMAS allows us to use edited pulse sequences which, especially in the case of biological tissues or agrofood products, may provide a simultaneous information on polar and non-polar components without the need of preliminary sample extraction. Additionally, this technique may differentiate molecular species according to their degree of mobility in hydrated matrices. The evident versatile potential of the HRMAS NMR makes this technique particularly useful for life science molecular studies. Despite the focus of HRMAS has been greatly devoted on clinical biomedicine, materials chemistry, and metabolomics, there are already enough studies that show useful applications on agricultural issues. This report reviews the latest representative studies that employ HRMAS NMR on systems related to agricultural chemistry, requiring the characterization and dynamics of soil components, plant tissues, agrofood products, and in vivo organisms.

Keywords
HRMAS NMRSoil organic matterPlant tissuesAgrofood productsMetabolomicsSoil fertilizationEnvironment
Introduction
Advanced and reliable analytical techniques are demanded to face up the ever more challenging issues related to the wide field of agricultural chemistry. The main topics of large interest are the following: (i) the improvement of knowledge on the complex chemical processes occurring in soil and involving its humic and mineral components; (ii) the unraveling of processes related to the biological stimulation of plant growth and relationship between soil components and plant roots; (iii) the bioavailability and fate of pollutants in the agro-environment; (iv) the assessment of quality, geographical origin, and traceability of agrofood products; (v) the development of practices in bio-agriculture aimed to improve crop quality. Although the complexity of these problems calls for a multidisciplinary analytical approach, the most determinant and critical responses commonly reside in chemical and molecular information. Nuclear magnetic resonance (NMR) and liquid or gas chromatographic systems coupled to advanced mass spectrometers (LC-MS or GC-MS, respectively) are the most used analytical methods to obtain accurate and detailed molecular information. Despite the poor sensitivity in respect to mass spectrometry, NMR spectroscopy enables to reach a complementary structural and conformational information of molecular systems in a non-destructive way.
Conceptually, the NMR phenomenon occurs when nuclei of magnetically active (spin number ≠ 0) atoms are immersed in a static magnetic field and exposed to a second oscillating magnetic field. Following the pulse interaction between the applied electromagnetic radiation and the dipolar moments of the nuclei subjected to the static field, the resonance energy is relaxed producing a free induction decay that contains detailed information about the structure, dynamics, reaction state, and chemical environment of the target molecular material [1, 2]. The combination of phase- and length-modulated pulses specific of the selected NMR pulse sequences enables a controlled manipulation of nuclear spins that ultimately provides structural and dynamical information and reveals through-bonding or through-space correlations among nuclei, in either mono- or multidimensional systems [3].
An interesting aspect of NMR spectroscopy is its versatility since it enables to examine samples in either liquid- or solid-state, by selecting the proper NMR probe where the samples are placed. However, both techniques are not devoid of inherent disadvantages. NMR spectroscopy of solid materials suffers for strong dipolar and quadrupolar interactions, chemical shift anisotropy (CSA), and magnetic susceptibility. Despite the adoption of different technological solutions for reducing the effects of these phenomena, they are still responsible for the low resolution of solid-state spectra and the exclusion of any direct analysis of hydrogen nuclei. Conversely, totally dissolved samples for liquid-state NMR spectroscopy contain molecules that tumble isotropically, thus fully minimizing the anisotropicity of solid matter and enabling acquisition of high-resolution NMR spectra. Nevertheless, the use of liquid-state NMR spectroscopy for the molecular identification of agricultural matrices (plant roots, leaves and fruits, animal tissues, soils, etc.) requires preliminary procedures such as extraction, purification, and concentration, which are not only time-consuming, but also entail a sample manipulation possibly conducive of loss and/or degradation of components [4].
In the late 1990, the new high-resolution magic angle spinning (HRMAS) technique was introduced to enable NMR applications directly on heterogeneous semi-solid and gel-like samples [
5
]. HRMAS is a combination of solid- and liquid-state NMR techniques since it allows us to obtain spectra with a resolution similar to that of liquid-state spectroscopy but on intact and non-manipulated semi-solid materials. In fact, these samples maintain a sufficient degree of molecular mobility to afford an efficient minimization of factors that affect NMR measurements of solid materials. The principles of HRMAS have been extensively discussed previously [
6
–
10
]. Briefly, each semi-solid sample is reduced to small pieces, fit into a HRMAS rotor, and added with a small amount of deuterated solvent to ensure both the molecular spin mobility and the deuterium lock. The rotor is then tightly sealed by a screwed-in insert to prevent dehydration or loss of solvent during spectral acquisition. The rotor is finally capped (Fig.
1
), loaded into the HRMAS probe, and spun at a relatively moderate rate (
ν
R
) around an axis inclined of an angle of 54.7° (the so-called "magic angle") to the static magnetic field (
B
0
). The MAS system permits to suppress the dipolar interactions, the chemical shift anisotropy (CSA), and the magnetic susceptibility arising at the interface between the solid and the liquid phase. These extensive spectral-broadening interactions are described in a Hamiltonian that contains an angular dependence of (3cos
2
θ
− 1)/2, where
θ
is the angle between the static magnetic field and the internuclear vector responsible for the interactions. When the sample rotates around an axis inclined of 54.7° to the magnetic field, all broadening factors are theoretically nulled [
7
,
8
].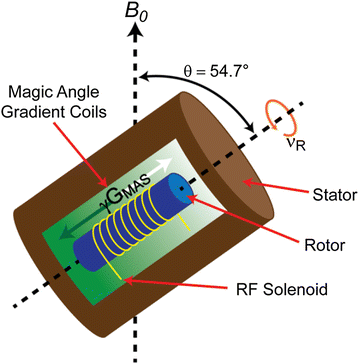 The high resolution of HRMAS spectra is due to the reduction of H–H dipolar couplings to few hundred Hz in many semi-solid samples, in respect to the 20–50 kHz usually found for rigid solid materials. In fact, the still significant segmental molecular motions in semi-solid matter allow the MAS system to efficiently minimize dipolar couplings [8]. Moreover, the signal resolution achievable by HRMAS is sufficient to perform most of 1D and 2D homo and heteronuclear NMR experiments, inasmuch as those conducted by liquid-state NMR spectroscopy. Therefore, HRMAS represents the best solution to also study complex molecular systems, such as membrane proteins, large molecular-weight polymers, whose dipole–dipole interactions are too strong to be sufficiently averaged by the simple molecular motion as that expected in liquid-state NMR spectroscopy. It is also critical in HRMAS spectroscopy that the spin rotation has to reach a value at least of the same order of magnitude as the line-broadening interactions, while avoiding an excessively fast rotation that may hasten sample degradation and reduce the measurements reliability. A relatively moderate spin rate ranging between 3 and 6 kHz is thus recommended, in order to reach best compromise between resolution and sample stability. An advantage of the HRMAS technique over solid-state MAS resides in the presence in HRMAS probes of gradients coils (Fig. 1), which may not only further improve spectral resolution, but also select coherence pathways and permit diffusion experiments to differentiate molecular species according to their degree of mobility in hydrated matrices. Moreover, edited (namely "filtered") pulse sequences, such as T2- and diffusion-based sequences, can be used in HRMAS systems [10–12]. This allows HRMAS spectroscopy to provide information on both polar and non-polar components of biological tissues or agrofood products without preliminary separations though extractions.
All this indicates that HRMAS NMR spectroscopy is a versatile and effective technique for studying complex molecular systems. Despite that most of HRMAS applications had been focusing on biomedical studies and materials chemistry [7, 13, 14], a body of literature has already pointed out that HRMAS may result determinant in investigations related to agricultural issues. Hence, this review aims to report on the most interesting applications of HRMAS NMR in agricultural chemistry.
HRMAS applications in agriculture
Concluding remarks
HRMAS is a relatively recent NMR technique that was developed to allow direct examination of semi-solid fresh samples without any pre-extraction. Here, we described the most relevant applications of HRMAS in studies related to agricultural issues. Specifically, we showed how HRMAS provides, by both multidimensional and multinuclear spectroscopy, a clear and informative molecular characterization of complex heterogeneous systems (i.e., soil organic matter, plant-derived materials) and enables to unravel the environmental reactivity of inorganic and organic materials. Moreover, when combined with chemometrics, HRMAS represents a reliable tool to study edible agrofood products and assess, directly and indirectly, their nutritional value, geographical origin, authenticity, genotype, and safety. The HRMAS becomes ever more important for the investigation of metabolic processes in plants as related to specific management practices or to responses to either abiotic stress or phytopathogens infections. Moreover, the possibility to acquire edited spectra (T2- and diffusion-based ones are the most commonly used) by HRMAS, further enhances the potential of this technique for quantitative analyses of complex biological systems.
The wide variety of materials (including in vivo micro- and macroorganisms) successfully studied by HRMAS suggests that it is the best choice when standard solution- and solid-state NMR techniques are not applicable or unsatisfying. Moreover, the rapidity and relative simplicity of the HRMAS technique, well coupled to the inherent reduction of solvents consumption and waste production, represent further elements in making this methodology very attractive for a wide spectrum of scientific investigations.
Declarations
Authors' contributions
PM and AP contributed equally in the literature selection and discussion. Both authors read and approved the final manuscript.
Acknowledgements
Not applicable.
Competing interests
The authors declare that they have no competing interests.
Consent for publication
The authors agreed the publication of the manuscript in this journal.
Ethics approval and consent to participate
This manuscript is an original review and has not been published in other journals. The authors agreed to keep the copyright rule.
Open AccessThis article is distributed under the terms of the Creative Commons Attribution 4.0 International License (http://creativecommons.org/licenses/by/4.0/), which permits unrestricted use, distribution, and reproduction in any medium, provided you give appropriate credit to the original author(s) and the source, provide a link to the Creative Commons license, and indicate if changes were made. The Creative Commons Public Domain Dedication waiver (http://creativecommons.org/publicdomain/zero/1.0/) applies to the data made available in this article, unless otherwise stated.
Authors' Affiliations
(1)
Centro Interdipartimentale per la Risonanza Magnetica Nucleare per l'Ambiente, l'Agro-Alimentare ed i Nuovi Materiali (CERMANU), Università di Napoli Federico II, Portici, Italy