MALDI-TOF mass spectroscopy of yeasts and filamentous fungi for research and diagnostics in the agricultural value chain
Chemical and Biological Technologies in Agriculture
2017
4:13
Received: 2 November 2016
Accepted: 20 February 2017
Published: 9 May 2017
Abstract
Matrix-assisted laser desorption ionization time-of-flight mass spectrometry (MALDI-TOF MS; MALDI biotyping) has become a standard tool for the accurate, rapid, and economical identification of pathogens in the clinical diagnostics laboratory. The method is continuously being improved, and new applications for distinguishing strains, identifying metabolites or functional characteristics (e.g., antibiotic resistance), and detecting microbes directly in patient samples have been developed. Adopting these methods in other disciplines than clinical diagnostics, for example, in agriculture, food safety and quality testing, or ecology, will open up new opportunities for diagnostics and research. This review focuses on MALDI-TOF MS approaches for the identification of yeasts and filamentous fungi. In contrast to bacterial diagnostics, MALDI biotyping of fungi is more challenging and less established. We thus start by discussing the role of MALDI-TOF MS as a tool for species identification; in particular with respect to DNA-based identification methods. The review then highlights the value of custom-made reference spectra for MALDI biotyping and points out recent advancements of MALDI-TOF MS, mainly from the field of clinical diagnostics that may be adopted and used for fungal diagnostic challenges. The overview ends with a summary of MALDI-TOF MS studies of yeasts and filamentous fungi of agricultural relevance.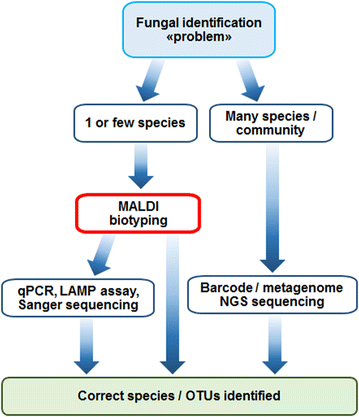 Keywords
Agriculture
MALDI-TOF MS
Biotyping
Diagnostics
Filamentous fungi
Yeast
Introduction
Matrix-assisted laser desorption ionization time-of-flight mass spectrometry (MALDI-TOF MS; also called MALDI biotyping) has become increasingly popular for the identification of microorganisms and their functions and is now approved for the routine identification of bacteria and fungi in clinical diagnostic laboratories [1–3]. It is the goal of this review to highlight recent technological advancements of MALDI biotyping and to illustrate applications of this tool for research in agriculture and the agricultural value chain. This outlook focuses on MALDI-TOF MS applications in mycology, because these are usually more demanding than bacterial identifications [4, 5] and will thus greatly benefit from the recent advances in bacterial MALDI-TOF MS diagnostics. In this context, it is important to note that MALDI-TOF MS is not an alternative to DNA sequence-based species identification, but rather a complementary method. In order to make use and realize the potential of MALDI-TOF MS it may thus be helpful bringing to mind the advantages and disadvantages of this method; in particular as compared to DNA-based assays and techniques.
MALDI biotyping and DNA-based identification complement each other
The identification of fungi usually involves a DNA sequence-based analysis that determines the identity of a given isolate based on sequence similarity; often taking advantage of the universal fungal barcode sequence of the nuclear ribosomal internal transcribed spacer (ITS) [
6
]. Second and third generation sequencing techniques now allow the sequencing of thousands or millions of barcodes, or even entire genomes, in parallel and such high-throughput technologies are available to virtually every laboratory. These barcode (amplicon) and metagenome sequencing methods allow identifying hundreds or thousands of species simultaneously and are thus powerful tools to describe the composition of entire microbial communities (Fig.
1
a) [
7
–
9
]. However, although massive parallel DNA sequencing generates a wealth of data, often more data are generated than needed and storage of the data and extraction of the required information is challenging and often limiting [
10
]. In addition, preparation and quality control of the template libraries for DNA sequencing is time consuming and costly (Table
1
). In specific cases, for the repeated identification of a defined number of species, it may thus be best not to generate the largest amount of data, but rather to generate exactly the amount of data needed in the fastest and most economical way. It is in this realm, where MALDI biotyping shines (Fig.
1
a; Table
1
).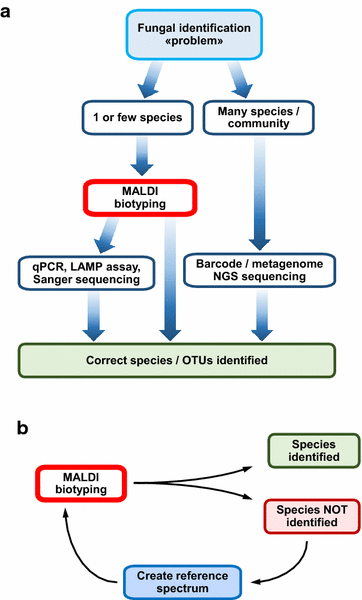 Table 1
MALDI-TOF- and DNA sequencing-based approaches complement each other
| | MALDI biotyping | qRT-PCR/lamp assay | Sanger sequencing | NGS sequencing |
| --- | --- | --- | --- | --- |
| Starting material | Crude extracts or whole cells | DNA extract from mixed sample | DNA extract from pure sample | DNA extract from community |
| Premises | Reference spectrum | Specific assay developed | Clone or PCR product available | None/PCR product |
| Equipment costs (machines) | High | Low-medium | High | High |
| Cost per sample | Negligible | Low-medium | Medium | High |
| Time for sample preparation | Short | Short-long | Long | Long |
| Time for analysis | Short | Medium | Medium | Medium-long |
| Data | Mass spectrum of one sample | Detection of one DNA fragment | DNA sequence of 400–1000 bp | In total 50 Mbp–1000 Gbp |
| Number of species/strains detected | Usually 1 per sample | 1 per assay | 1 per sample | Up to many thousands |
| Cultivation step required | Usually yes | No | Usually yes | No |
In contrast to DNA sequencing-based approaches, MALDI-TOF MS uses whole cells or crude, acidic extracts, and mass spectra for the identification of individual species [2, 11]. The simple sample preparation, short measurement times, easy preparation of reference spectra, and low costs per sample are important advantages of MALDI-TOF MS, as compared to specific, DNA-based assays that are often laborious to establish and usually require costly reagents (Table 1) [1, 12]. MALDI-TOF MS is also highly flexible and can be combined with additional extraction or processing steps in order to identify specific biomarkers, metabolites, or biochemical functions. Because of these advantages, MALDI biotyping has become a standard in routine clinical diagnostics and MALDI-TOF MS devices have become readily accessible, also for researchers in other disciplines than clinical diagnostics [4, 13, 14]. This opens up new possibilities for functional hypothesis-driven research.
Unless it is the goal to identify entire microbial communities, MALDI-TOF MS is the method of choice for species identification, because it is fast, economical, and many common bacteria and an increasing number of fungi can be identified. In those cases where MALDI-TOF MS does not reveal the identity of a particular organism, classical Sanger sequencing or DNA-based assays (e.g., qPCR or LAMP assays) are used for identification (Fig. 1a; Table 1). Once the organism is identified based on such an assay, the generation of new MALDI-TOF MS reference spectra will allow identifying this species or isolate in the future (Fig. 1b). The iterative procedure comprises DNA-based identification and MALDI-TOF MS reference spectrum generation for each new organism continually increases the number of species that can be identified and thus the benefit of a particular MALDI-TOF MS system (comprises robust software, reliable algorithms, and databases). In particular in large culturomics projects, an integration of MALDI-TOF MS in the identification pipeline results in a comprehensive database of reference spectra that allows identifying a plethora of species and even challenges, or rather complements, DNA sequencing-based analyses of microbiomes [15, 16].
Custom-made reference spectra improve MALDI-TOF MS-based identification
DNA-based identification methods benefit from large, public, DNA sequence repositories, and many openly accessible or downloadable analysis tools. In contrast, MALDI-TOF MS reference spectra, as well as analysis tools, are usually proprietary, only commercially available, and heavily focused on medical applications. Even organisms commonly found in environmental, agricultural, or food samples are thus often not recognized by standard, commercial MALDI-TOF MS systems. In addition, MALDI-TOF MS spectra are not universal, such as a DNA sequence, but depend on the crude cell extract or the physiological state of the fungal cells that are applied onto the target plate and used for recording mass spectra. Consequently, the age and growth conditions of a microbial culture, as well as the settings of the ionizing laser, flight tube, and mass detector, can influence a MALDI biotyping experiment.
Many of these problems can be overcome by generating custom-made, specific MALDI-TOF MS reference spectra for the particular application in question [5]. Since these reference spectra are generated with the same MALD-TOF MS device, settings, and sample preparation as the experimental samples, the scores obtained with these references are usually higher as compared to generic reference databases [5, 17–19]. Custom-made reference spectra thus allow ample flexibility with respect to different sample preparation protocols and experimental set-ups in a particular lab or for specific applications. For example, reference spectra for different cell densities of a particular organism may allow an estimation of cell densities [20]. It is of course also possible to generate reference spectra for fungi grown on different agar plates, different physiological states, different extraction protocols, or directly applied bacterial or yeast cells (as opposed to crude extracts).
The integration of custom-made reference spectra in a commercial MALDI-TOF MS system is only the first step towards a truly open platform for MALDI-TOF MS-based species identification. Although it is easy to generate reference spectra, a comprehensive public repository of MALDI-TOF MS reference spectra is lacking. Such a resource would greatly facilitate the exchange of reference spectra between research groups and thus allow identifying microorganisms for which no reference spectra have been generated in a particular lab [21]. Until now, only few MALDI-TOF MS spectra databases for microbial identification are publicly available. The FoodBIMS database comprises reference mass spectra of food-borne bacteria [22] (http://bioinformatica.isa.cnr.it/Descr_Bact_Dbase.htm). SpectraBank is a freely accessible database that also comprises mainly bacterial reference spectra [23], and the free Spectra site hosts an extended database of MALDI-TOF MS reference spectra for bacteria and fungi (which is made available by the Public Health Agency of Sweden (Folkhälsomyndigheten): http://spectra.folkhalsomyndigheten.se/spectra/welcome.action).
In addition to MALDI-TOF MS data repositories, instrument- and provider-independent analysis tools for microbial biotyping using mass spectra are urgently needed. SPECLUST is an application to perform cluster analyses of MALDI-TOF MS spectra and was for example used to separate the bacterium Ralstonia solanacearum into different species [24, 25]. More recently, Starostin et al. [26] developed a tool to use geometric distances between MALDI-TOF MS spectra represented in a multi-dimensional space to distinguish closely related Bacillus strains. Mass-up is a comprehensive, open-source tool for the processing and analysis of MALDI-TOF MS data [27]. Besides classification, it has also biomarker discovery, principle component analysis, and clustering functions implemented and was, for example, used to fingerprint bacterial isolates or classify peritoneal dialysis patients by mass spectrometry-based profiling [28, 29]. For baseline correction, normalization, peak detection, and matching, it uses open-source packages such as MALDIquant [30] and MassSpec Wavelet [31], which are also available as separate R packages. Finally, BIOSPEAN (http://software.cr-hana.upol.cz/biospean/login.php) is a web-based application and database that was specifically developed for analyzing whole-cell MALDI-TOF MS data and includes peak picking, generation of MS databases, and data sharing among users [32].
The public deposition of MALDI-TOF MS spectra, together with information concerning culture conditions and experimental details is highly desirable and could largely expand the potential of MALDI-TOF MS for agricultural and food diagnostics, as well as ecological research. Standardized extraction buffers (an acidic extraction using formic acid and acetonitrile seems often used) and particularly matrix solutions (e.g., α-cyano-4-hydroxycinnamic acid, HCCA) would much improve comparability of results among different laboratories. However, since different types of cells and organisms require different extraction buffers and matrices for the best MALDI-TOF MS spectra, including this information in the reference spectra and in biotyping experiments seems necessary.
Clinical MALDI-TOF MS applications benefit fungal diagnosis and research
The low sample preparation costs and fast measurement time, in addition to its accuracy, are highly attractive properties of MALDI-TOF MS; in particular for clinical applications. MALDI biotyping of clinically relevant microorganisms is thus more advanced than of other microbes and new methods are first introduced and tested with clinical samples. Consequently, the majority of MALDI-TOF analyses of fungi so far have dealt with clinical isolates [33]. In particular, the rapid and economical identification of Candida species is an important medical application [34–39], but filamentous fungi present in clinical samples have been studied by MALDI biotyping as well [40–43]. Overall, MALDI-TOF MS is an accurate, reliable, and rapid method for the identification of human pathogenic fungi, and new applications for clinically relevant yeasts and filamentous fungi are continuously being developed [43–45]. A comparison of two commercially available systems, VITEK MS (bioMérieux) and MALDI Biotyper (Bruker Daltonics) with their associated databases, has shown similar identification efficiencies of clinically relevant yeasts for the two systems [46, 47], while other studies found differences between biotyping systems [48, 49]. The identification power is improved by including in-house generated reference spectra in the databases [17, 43, 46] (also see above). In addition, it was shown that the sample preparation method and quality of the database are crucial for accurate identification [38]. In general, identification rates for yeasts are above 90% and higher when using acidic extracts, as compared to direct transfer of whole cells [38, 50]. In many cases, clinical diagnostics of human pathogenic bacteria and fungi drives the development of new MALDI biotyping approaches that will also benefit fungal diagnosis and research in other areas. It therefore seems worthwhile discussing new MALDI-TOF MS techniques that are mainly used in the clinical setting in order to highlight the potential and outline opportunities for MALDI-TOF MS of yeasts and filamentous fungi.
Fungal MALDI biotyping as a tool for agricultural diagnostics and research
MALDI biotyping of yeasts and filamentous fungi is more difficult than bacterial identifications, because the former result in less mass peaks and fewer reference spectra are available [
4
,
5
]. In contrast to clinically relevant fungi, only a limited number of fungal plant pathogens, postharvest diseases, or food contaminants have been detected by MALDI biotyping. The non-medical applications of MALDI-TOF MS for fungal diagnostics and research that we are aware of are summarized in Table
2
. These studies document that in particular the genera
Fusarium
,
Trichoderma,
and
Saccharomyces
are being used as models for the development of MALDI-TOF MS applications and for assessing the potential of this technology. In contrast to clinical studies, naturally occurring yeasts have been rarely studied by MALDI-TOF MS, except in the context of fermentations, for example, during winemaking and brewing [
19
,
72
,
87
,
88
]. In general, the large majority of (non-clinical) fungal MALDI-TOF MS studies were directed towards phytopathogens (e.g.,
Aspergillus
,
Fusarium
,
Monilinia
,
Penicillium
,
Puccinia
, mildews) or potential biocontrol strains (e.g.,
Trichoderma
,
Metarhizium
). MALDI biotyping tools for other important soilborne or phyllosphere plant pathogens have not been established. Examples include
Armillaria
and
Thielaviopsis
, genera of worldwide root pathogens that attack hundreds of plant species [
89
,
90
] or important oomycete pathogens such as
Pythium
,
Plasmodiophora,
or
Phytophthora
[
91
]. Also in the phyllosphere, pathogens such as
Venturia inaequalis
, the causative agent of apple scab [
92
], the apple blotch fungus
Diplocarpon mali
(
Marssonina coronaria
) [
93
,
94
], and many others may be identified by MALDI biotyping and thus facilitate monitoring and studying these diseases. It is also worthwhile realizing that MALDI-TOF MS methods for identifying the majority of the fungal diseases recommended by the European and Mediterranean Plant Protection Organisation (EPPO) to be regulated as quarantine pests (List A1:
https://www.eppo.int/QUARANTINE/listA1.htm
, List A2:
https://www.eppo.int/QUARANTINE/listA2.htm
) do not exist. The lack of MALDI-TOF MS protocols for such a wide range of economically important plant pathogens is surprising and highlights avenues for future research.
Table 2
Overview of MALDI-TOF MS studies of agriculturally relevant fungi
| Samples/organisms | Highlights | Reference |
| --- | --- | --- |
| Alternaria | Detection of the Alternaria mycotoxins alternariol, alternariol monomethyl ether, and tentoxin by MALDI-TOF MS | Sivagnanam et al. [67] |
| Alternaria | Separation of A. dauci, A. porri, A. solani, and A. tomatophila into three clusters by molecular analyses and MALDI-TOF MS | Brun et al. [102] |
| Alternaria | Identification of 60 isolates of 12 Alternaria species by intact cell MALDI-TOF MS with small mycelium samples | Chowdappa et al. [103] |
| Aspergillus | Optimization of protein extraction for 24 Aspergillus species from as few as 10,000 spores and identification of 11 proteins | Sulc et al. [104] |
| Aspergillus | Identification of 12 Aspergillus strains by preparing crude extracts by bead beating | Hettick et al. [105] |
| Aspergillus | Characterisation of A. ibericus strains by MALDI-TOF MS and comparison with related species | Kallow et al. [106] |
| Aspergillus | Analysis of several aflatoxigenic and non-aflatoxigenic strain belonging to four Aspergillus species | Li et al. [107] |
| Aureobasidium | Analysis of extracellular liamocins (mannitol oils) produced by A. pullulans | Price et al. [108] |
| Aureobasidium | Determination of oil structures of different A. pullulans strains | Manitchotpisit et al. [109] |
| Beer spoilage microorganisms | Detection and distinction of beer spoilage yeasts and bacteria from brewing yeasts | Turvey et al. [19] |
| Bremia, Oidium | Identification of ribosomal proteins and histones as markers for the biotyping of plant pathogens | Beinhauer et al. [97] |
| Chalara | In vitro and in vivo identification of C. fraxinea by secondary metabolites collected in methanol extracts | Pham et al. [110] |
| Clonostachys | Cluster analysis of MALDI-TOF MS data of 45 Clonostachys strains from different substrates | Abreu et al. [111] |
| Downy and powdery mildews | Identification of the obligate biotrophic mildew fungi Bremia lactucae and Oidium neolycopersici, also from infected leaves | Chalupova et al. [96] |
| Fusarium | Identification and characterisation of F. verticillioides and fumonisins by MALDI-TOF MS and MALDI-TOF MS/MS | Chang et al. [112] |
| Fusarium | Differentiation of Fusarium subspecies based on spores collected and prepared from isolates | Marchetti-Deschmann et al. [113] |
| Fusarium | Optimisation of MALDI biotyping of three Fusarium species (16 isolates) and identification of proteins following on-target tryptic digestion | Dong et al. [114] |
| Fusarium | Optimized sample preparation for strongly colored Fusarium conidia | Dong et al. [115] |
| Fusarium | Mixed volume spore preparation for five Fusarium species | Kemptner et al. [116] |
| Fusarium | Differentiation of Fusarium species with ferulic acid as the matrix and the dried-droplet technique | Kemptner et al. [117] |
| Gibberella | Characterisation of G. zeae conidia by on-target trypsin digestion | Dong et al. [118] |
| Metarhizium | Reference spectra for distinguishing 51 isolates of the M. anisopliae species complex | Lopes et al. [119] |
| Monilinia | Identification of Monilinia brown rot fungi directly from infect fruits | Freimoser et al. [18] |
| Monilinia | Identification distinction of four Monilinia species cultivated in vitro | Horka et al. [120] |
| Penicillium | Discrimination of 12 Penicillium species based on crude extracts obtained by bead beating | Hettick et al. [121] |
| Penicillium | Six Penicillium species directly detected on citrus and apple fruits | Chen et al. [122] |
| Puccinia | Identification of different species and pathotypes of P. triticina and P. graminis by intact spore MALDI-TOF MS | Beinhauer et al. [123] |
| Rhizopus, Trichoderma, Phanerochaete | Comparison of sample preparation, matrices, and double-stick tape for collection of fungal material | Valentine et al. [124] |
| Saccharomyces | Fingerprinting of 33 Saccharomyces strains commonly used for wine fermentation | Usbeck et al. [88] |
| Saccharomyces | Comparison of SAPD-PCR (specifically amplified polymorphic DNA) and MALDI-TOF MS for identifying related Saccharomyces species | Blattel et al. [72] |
| Saccharomyces | Identification of yeasts involved in chichi fermentation | Vallejo et al. [98] |
| Saccharomyces | MALDI-TOF MS characterization of protein biomarkers desorbed from S. cerevisiae by formic acid | Amiri-Eliasi et al. [125] |
| Sepedonium | Characterisation of mycoparasitic Sepedonium species and analysis of low-molecular weight peptides | Neuhof et al. [126] |
| Spoilage yeasts | Optimization of MALDI-TOF MS assay for Saccharomyces, Wickerhamomyces and Debaryomyces isolated from beverages | Usbeck et al. [87] |
| Trichoderma | Analysis of 129 Trichoderma strains by MALDI-TOF MS as well as ITS and tef1 sequencing | De Respinis et al. [127] |
| Trichoderma | Characterisation and clustering of Trichoderma strains, their peptaibiotics, and hydrophobins | Degenkolb et al. [128] |
| Trichoderma | Detection of peptaibols in 28 Trichoderma species | Neuhof et al. [129] |
| Trichoderma | Direct identification of hydrophobins in Trichoderma isolates by MALDI-TOF MS | Neuhof et al. [130] |
| Trichoderma, Rhizoctonia | Visualization of metabolites produced during the antagonistic interaction of T. atroviride and R. solani | Holzlechner et al. [131] |
| Verticillium | Identification of six pathogenic Verticillium isolates with a protocol involving sonication | Tao et al. [132] |
| Wood decay fungi | Differentiation of closely related indoor wood decay fungi by MALDI-TOF MS (Serpula lacrymans, S. himantioides, Coniophora puteana, C. marmorata, and Antrodia vaillantii, A. sinuosa) | Schmidt and Kallow [133] |
| Yeasts and filamentous fungi | MALDI lipid phenotyping as an alternative method for characterizing and identifying fungi | Stübiger et al. [134] |
| Yeasts | Identification of food-borne yeasts (≥33 species, 96 isolates) by MALDI-TOF MS and conventional methods | Pavlovic et al. [99] |
As in clinical diagnostics, the need to identify fungi often goes along with the goal to identify a particular organism directly in the environment, infected plant tissue, or food, which can harbor complex microbial communities and potentially host tissue. Examples of in situ identifications of microorganisms by MALDI-TOF MS include plant invasive
Rhizobia
[
95
], obligate biotrophic fungal pathogens [
96
,
97
], or
Monilinia
brown rot fungi [
18
]. In food science, MALDI biotyping has been mainly used for the identification of food-borne yeasts, which were pre-cultivated prior to MALDI-TOF MS analysis [
87
,
98
,
99
]. In own, unpublished work, we have developed an approach for identifying food quality and safety-relevant fungi directly from contaminated apple juices by MALDI biotyping without pre-cultivation of the fungus. MALDI-TOF MS spectra of
Byssochlamys fulva
derived from both approaches—without and with pre-cultivation of the fungus in liquid medium—revealed the same protein profiles and allowed accurate species identification (Fig.
2
). These studies and results document the potential of MALDI-TOF MS to identify fungal pathogens directly in infected tissue or food.

In particular for the diagnosis of plant pathogens, food contaminants, and spoilage organisms, biomarker-based identification will permit identifying key species in complex mixtures by MALDI-TOF MS. However, so far the MALDI-TOF MS-based identification of fungal mixtures has not yet been reported.
Conclusions
Although numerous fungi have been identified by MALDI-TOF MS already, this technology is far from being a standard tool for the identification of fungi and their functions. Overall, the examples highlighted here demonstrate that the potential of MALDI-TOF MS for clinical diagnostics, and diagnostic and research applications in general, is far from being exhausted. None of the recent methodological improvements (e.g., direct smear after short cultivation times, sample concentration, immunoaffinity enrichment, subspecies identification, functionalization of MALDI target plates, biomarker-based identification in polymicrobial samples) is inherently limited to clinical samples or only bacteria. Translating these improvements and developments to other areas of diagnostics (e.g., of plant pathogens or food spoilages) and to other microorganisms, such as filamentous fungi and yeasts, will thus enable experimental research in bacterial and fungal diagnostics, ecology, physiology, or pathology.
Declarations
Authors' contributions
Both authors planned and wrote the manuscript together. Both authors read and approved the final manuscript.
Acknowledgements
We are indebted to René Brunisholz (Functional Genomics Center Zurich, FGCZ) for valuable scientific discussions and help with MALDI-TOF MS analysis of Byssochlamys fulva.
Competing interests
The authors declare that they have no competing interests.
Funding
The research of both authors is funded by Agroscope.
Publisher's Note
Springer Nature remains neutral with regard to jurisdictional claims in published maps and institutional affiliations.
Open AccessThis article is distributed under the terms of the Creative Commons Attribution 4.0 International License (http://creativecommons.org/licenses/by/4.0/), which permits unrestricted use, distribution, and reproduction in any medium, provided you give appropriate credit to the original author(s) and the source, provide a link to the Creative Commons license, and indicate if changes were made. The Creative Commons Public Domain Dedication waiver (http://creativecommons.org/publicdomain/zero/1.0/) applies to the data made available in this article, unless otherwise stated.
Authors' Affiliations
(1)
Research Group Microbiology of Plant Foods, Agroscope, Wädenswil, Switzerland
(2)
Research Division Plant Protection, Agroscope, Wädenswil, Switzerland