Metabolomics applied in bioenergy
Chemical and Biological Technologies in Agriculture
2014
1:22
Received: 31 March 2014
Accepted: 7 October 2014
Published: 30 October 2014
Abstract
Metabolomics, which represents all the low molecular weight compounds present in a cell or organism in a particular physiological condition, has multiple applications, from phenotyping and diagnostic analysis to metabolic engineering and systems biology. In this review, we discuss the use of metabolomics for selecting microbial strains and engineering novel biochemical routes involved in plant biomass production and conversion. These aspects are essential for increasing the production of biofuels to meet the energy needs of the future. Additionally, we provide a broad overview of the analytic techniques and data analysis commonly used in metabolomics studies.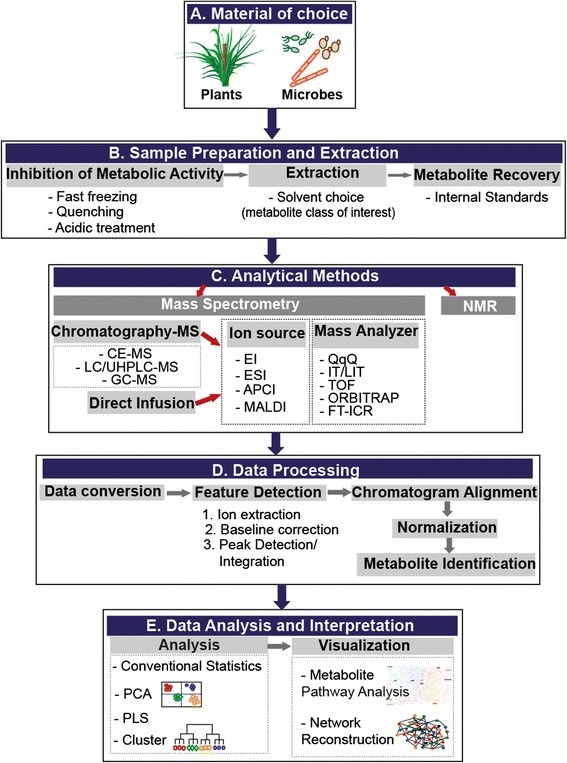 Keywords
Metabolomics
Mass spectrometry
Bioenergy
Introduction
The rising demand for energy, coupled with uncertain sources of fossil fuels and concerns over the effects of increasing carbon dioxide, has contributed to the search for alternative energy sources. In this sense, the translation of biomass derived from crop plants into biofuels has emerged as an attractive solution. Currently, sucrose from sugarcane and starch from corn are used as feedstock for ethanol fermentation. However, there is increasing interest in using the bulk of plant biomass in the form of cell walls [1],[2] or triacylglycerols [3] to meet the energy needs of the future. Some attempts to make the production of lignocellulosic biofuels possible include the development of strategies to harness structural sugars from plant cell walls by prospecting novel microbial enzymes and biomass-oriented plant breeding. However, to achieve this, it is necessary to understand the molecular mechanisms underlying plant biomass production [4] and microbial conversion pathways [5],[6]. These processes rely on complex signaling networks closely linked to the metabolism. Therefore, understanding how plants and microorganisms grow in response to environmental stimuli and how they can adjust their metabolic ratios could also provide means to simplify the conversion of biomass into biofuels [7].
Recent advances in high-throughput technologies and analytic methods, such as transcriptomics and metabolomics, have enabled measurements of phenotypic variations at the molecular level. The metabolome, which represents the chemical composition of all small molecules in a cell or organism under certain conditions, allows for a global view of cellular and physiological functions. In comparison to other technologies, metabolomics is cheaper per sample than transcriptomics and is not reliant on the availability of genome sequences [8],[9]. Therefore, it is considered a powerful tool for the unbiased characterization of genotypes and phenotypes with application in multiple areas, such as evaluation of genetically modified organisms [10]–[12], functional genomics [13]–[17], responses to environmental factors [18]–[23], metabolic engineering [24],[25], and quantitative genetics [26]–[30]. Furthermore, metabolomics, together with multivariate and correlation analyses, is an excellent tool for the study of systems biology, being widely recognized as the cornerstone of this emerging area [22],[31]–[34]. In this review, we focus on how metabolomics approaches have been used to identify novel metabolic routes for microbial biomass conversion and also highlight biochemical pathways important for plant biomass production. Furthermore, we provide a brief overview of advancements in analytic techniques and data analysis commonly used in metabolomics studies.
Conclusions
We have highlighted the current status of metabolomics and its power in bioenergy-oriented studies. Although great advances in several analytic platforms allow for the assessment of hundreds of metabolites in complex biological samples, compound identification and data analysis and integration are still bottlenecks that make this approach a challenge. Efforts to further understand metabolic changes in microorganism during the harsh ethanolic fermentation steps, as well as the prospection of novel routes and strains for biomass conversion, indicate that metabolomics plays an indispensable role in diagnostics and metabolic engineering. In addition, metabolomics links phenotype to genotype and has great potential for application in various plant science areas such as metabolomics-assisted breeding and systems biology. For this reason, metabolomics could boost plant yield and microorganism performance for biotechnological purposes in bioenergy research.
Declarations
Acknowledgements
The authors thank EMBRAPA and CTBE for permission to publish this work. We thank Mauricio Parra and Ryan Green for critical reading on the manuscript. This work was supported by funding from the Max Planck Society (CC), the National Council for Scientific and Technological Development (CNPq-Brazil, Grant 402755-2012-0 to CC) and the FAPESP (São Paulo Research Foundation, Brazil, Grant 2012/19561-0 to CC).
Authors' Affiliations
(1)
Embrapa Agroenergy - Estação Biológica (PqEB), Brasília, Brazil
(2)
Brazilian Bioethanol Science and Technology Laboratory/CNPEM, Rua Giuseppe Máximo Scolfaro 10000, Campinas, Brazil
(3)
Max-Planck-partner group at the Brazilian Bioethanol Science and Technology Laboratory/CNPEM, Rua Giuseppe Máximo Scolfaro 10000, Campinas, Brazil
Copyright
© Abdelnur et al.; licensee Springer. 2014
This article is published under license to BioMed Central Ltd. This is an Open Access article distributed under the terms of the Creative Commons Attribution License (http://creativecommons.org/licenses/by/4.0), which permits unrestricted use, distribution, and reproduction in any medium, provided the original work is properly credited.