Humic substances stimulate maize nitrogen assimilation and amino acid metabolism at physiological and molecular level
Chemical and Biological Technologies in Agriculture
2015
2:5
Received: 29 November 2014
Accepted: 20 January 2015
Published: 13 February 2015
Abstract
Background
The effects of a humic substance (HS) extracted from a volcanic soil on the nitrate assimilation pathway of Zea mays seedlings were thoroughly examined using physiological and molecular approaches. Plant growth, the amount of soluble proteins and amino acids, as well as the activities of the enzymes involved in nitrogen metabolism and Krebs cycle, were evaluated in response to different HS concentrations (0, 1 and 5 mg C L−1) supplied to maize seedlings for 48 h. To better understand the HS action, the transcript accumulation of selected genes encoding enzymes involved in nitrogen assimilation and Krebs cycle was additionally evaluated in seedlings grown for 2 weeks under nitrogen (N) sufficient condition and N deprivation.
Results
HS at low concentration (1 mg C L−1) positively influenced nitrate metabolism by increasing the content of soluble protein and amino acids synthesis. Furthermore, the activity and transcription of enzymes functioning in N assimilation and Krebs were significantly stimulated.
Conclusions
HS treatment influenced the gene expression of Zea mays plants at transcriptional level and this regulation was closely dependent on the availability of nitrate in the growth medium.
Keywords
Humic substancesBiological activityGene expressionNitrogen metabolism
Background
Humic substances (HS) are the major components of soil organic matter (SOM) and positively affect crop production [1] by playing pivotal roles on both soil-plant system [2] and plant metabolism and development [3-6]. The growing concern for sustainable agriculture, whose goals are to ensure lower environmental costs and long-term productivity of agro-ecosystems [7], highlights the importance of developing management strategies to maintain and 1protect soil resources and, in particular, SOM [8]. Despite this present awareness, the second half of the past century has seen a massive and indiscriminate use of high-energy input in agriculture and in particular of N fertilizers during the so-called green revolution. These practices led to the selection of genotypes, which were highly productive when fed with high nitrogen inputs, though not efficient in nitrogen use [9], while they concomitantly caused a progressive impoverishment of soil physical and biological properties, as well as of SOM and nutrients' bioavailability.
Because of the importance of HS in soil fertility, a larger number of works focused on both the chemical-physical structure and the biological properties of humic matter. HS have been traditionally described as polydispersed heterogeneous organic compounds with large molecular weight [10]. However, recent experimental findings reached a new understanding of the humic conformational nature that is regarded as a supramolecular association of heterogeneous molecules with relatively low molecular weight (≤1.5 kD) held together in only apparently large molecular sizes by weak interactions, such as hydrogen and hydrophobic bondings. The metastable conformations of humic associations can be reversibly disrupted by interactions with small amounts of organic acids [11,12], while the same amount of acids do not alter conformation of the true macropolymers stabilized by covalent bonds [13]. The supramolecular nature of humic matter and its response to organic acids have been advocated to explain the bioactivity of humus on plants [6], its molecular dynamics [14] and the slow release of sorbed contaminants [15]. Furthermore, the recognition that NOM is composed by supramolecular associations rather than macropolymers has allowed the development of a fractionation strategy, called humeomics, that enables the analytical detection of most of the single molecules which constitute the supramolecular assembly [16-18]. These findings had profound implications on our understanding of SOM function and reactivity.
Several studies have reported the positive effect of HS on crop yield [19-21] and on root and shoot development [6,22]. In addition, leaf chlorophyll content [1], nutrient uptake [3,23-26] and the activities of enzymes involved in several physiological pathways, such as nitrogen assimilation [3,24,25,27] and energy metabolism [28-30], seem to be positively affected by HS. However, because of the complexity of HS' nature, the relationship between their molecular structure and biological activity is not yet completely clear. In the last decades, several studies correlated biological activity to humic chemical features [31-41]. The positive effects of different HS in relation to their chemical structure were shown by Muscolo et al. [35] and Nardi et al. [36] on Pinus nigra callus metabolism and Zea mays seedling growth. Moreover, Zancani et al. [42,43] successfully related humic matter molecular features to metabolism of tobacco BY-2 suspension cell cultures and to changes of cellular ATP and glucose-6-phosphate during embryogenesis of Abies cephalonica.
Furthermore, the complexity of the biological action exerted by HS on plant metabolism suggested the existence of hormonal mechanisms, in particular of an auxin-like effect [3,4]. The presence of low amount of IAA in different soil humic substances has been reported [33,44]. Moreover, these substances seem to have a physiological effect on both a maize isoform of H+ ATPase Mha2 [34,37,38], which is a specific auxin target, and a pea phospholipase A2 [45], which is a component of an auxin-dependent signalling.
The objective of this work was to investigate the effect of humic matter on maize nitrate assimilation and amino acids metabolism when the humic concentration was varied. The response of growth, protein and free amino acid content of maize seedlings to humic supply was evaluated here. Moreover, the activity of the main enzymes involved in the Krebs cycle and nitrogen metabolism was determined, together with the expression of genes encoding the enzymes involved in these two metabolic pathways.
Results
Effects of HS treatments on plant growth
After growing for 12 days in a complete nutrient solution, the plants were transferred in a solution containing two different concentrations of HS and treated for 48 h. For seedlings supplied with 1 mg C L
−1
of humic solution, no significant difference from control was found for leaves, roots length and fresh weight. Conversely, treatment with a greater humic concentration (5 mg C L
−1
) produced length of both leaves and roots 8% shorter than the control seedlings (Figure
1
a
,
b) and fresh weight (Figure
2
a
,
b).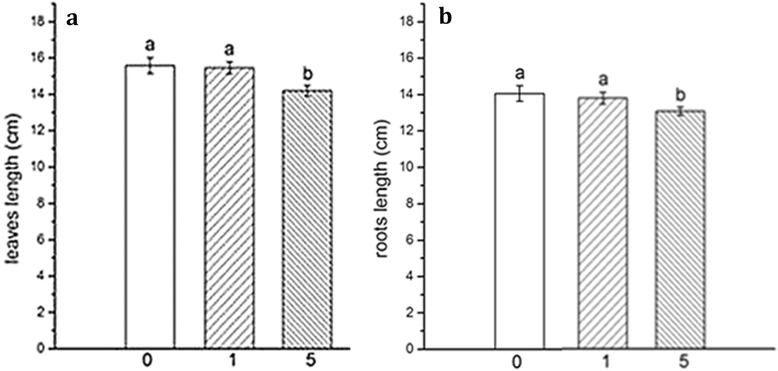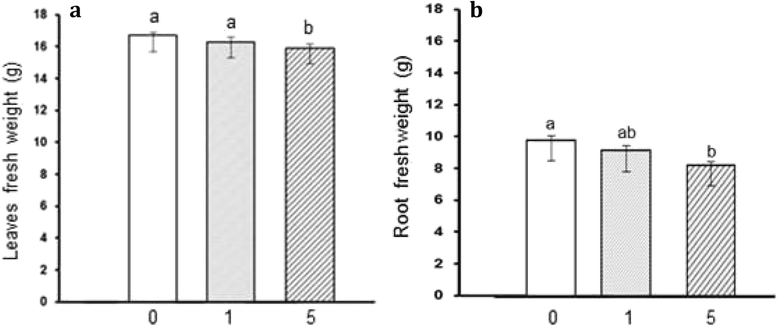 Effects of HS treatments on protein content and enzyme activities
Effect of HS treatment on the amino acid content
The free amino acid content in leaves was measured to follow HS effects on nitrogen assimilation. Aspartate (Asp), threonine (Thr), isoleucine (Ile) and lysine (Lys) increased by 10% to 13% with 1 mg C L
−1
HS, while the 5 mg C L
−1
did not change the amino acids' content (Table
2
). However, asparagine (Asn) behaved differently, as it was increased (41%) only with the addition of 5 mg C L
−1
HS, while 1 mg C L
−1
HS decreased (−11% ) this amino acid in leaves as compared to control.
Table 2
Amino acid contents (μmol g −1 fw) in leaves
Amino acid

Treatment

C

1

5

Aspartate

1.74 ± 0.3

1.97 ± 0.52

1.8 ± 0.45

Threonine

2.78 ± 0.92

3.06 ± 0.96

2.76 ± 0.92

Isoleucine

1.31 ± 0.27

1.46 ± 0.35

1.3 ± 0.62

Lysine

1.36 ± 0.32

1.53 ± 0.47

1.3 ± 0.31

Asparagine

1.7 ± 0.4

1.55 ± 0.18

2.4 ± 0.39

Glutamate

2.85 ± 0.90

3.19 ± 0.96

2.71 ± 0.52
Effect of humic sample on gene expression
To gain further insight on the mechanisms of regulation of the enzyme previously described by HS, the expression of five genes encoding the key enzymes of N assimilation and organic acids synthesis was evaluated in leaves of both nitrate-supplied and nitrate-depleted maize seedlings, in response to 1 mg C L
−1
HS for 24 h. The transcript accumulation of the gene encoding a NADH-NR [
59
] showed a significant increase after the treatment with 1 mg C L
−1
HS in leaves of N-supplied plants, with respect to that detected in leaves of +N control plants (Figure
8
). Conversely, no NR transcript accumulation was observed in the leaves of N-deprived plants of either HS-treated or control seedlings. Similarly, humic treatment induced a substantial increase of mRNA abundance in leaves of N-supplied seedlings, whereas no significant differences were detected when N-depleted seedlings were supplied with HS.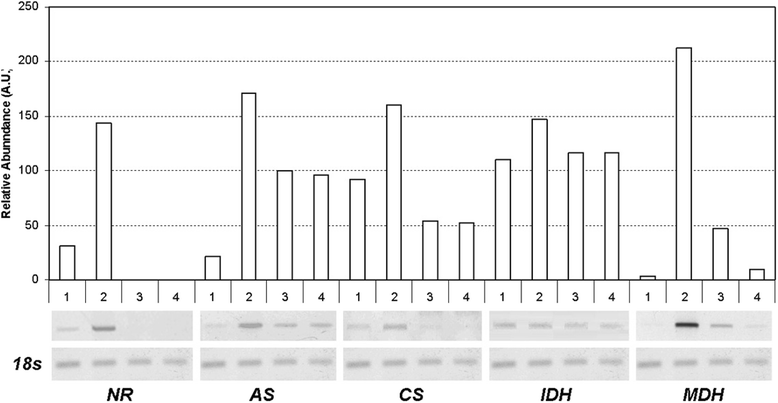 A similar expression pattern in response to humic substances provision was also observed for the genes encoding MDH, CS and IDH enzymes which are involved in the Krebs cycle and N organication. In the case of MDH, a slight decrease of mRNA abundance was found in N-deprived leaves after humic supply. Moreover, the transcript level of these three genes was always lower in N deficiency conditions in respect to that for N-supplied plants.
Discussion
Since the 1980s, several studies have highlighted the existence of biological effects of HS on plant physiology and metabolism [1,3,6,25,32]. However, only more recently, the attention of researchers has been focused on HS fractions characterized by an apparently low-molecular-weight (LMW), which seems to influence plant growth and physiology more than other fractions [3,63]. In fact, several works focused on effects of LMW fraction on nitrogen uptake [33,34,37,64] and assimilation [65], but the results obtained were often contradictory [66,67]. Their positive effects have mainly been attributed to a large content of carbohydratic and carboxyl-C groups [32,68].
More recently, Nardi and coworkers [36] evaluated the effect on the respiratory metabolism of maize seedlings provided by different size fractions of a soil humic acid, after their separation by preparative high-performance size-exclusion chromatography (HPSEC). The evaluation of the biological activity of size fractions showed that the size fraction with the smallest molecular size was more bioactive, followed by, in the order of, both the original bulk humic acid and the larger size fractions. Such effect was attributed to the larger flexibility of the smallest size fraction conferred by its greater content of hydrophilic components [36]. In fact, both the conformational flexibility and the hydrophilicity of this small-sized humic fraction should facilitate the release from its supramolecular structure upon the action of organic acids exuded by roots of humic molecules with plant stimulation activity. The diffusion of such bioactive molecules in solution should be less easy from humic matrices with larger and more compact conformations [37,38,69]. Here, we used the same bulk humic acid that was found bioactive and second only to its separated smallest size fractions in order to evaluate its effects on nitrogen assimilation in maize at both physiological and molecular levels. This species was chosen because of its worldwide economic and agronomic importance and also because of its importance as a model plant [70].
Our results indicate that the HS treatment influenced the activities of all these enzymes in a dose-dependent manner. In particular, the increase of enzyme activity in relation to the dose of HS supplied was exponential as a significant stimulation was observed when plants were treated with 5 mg C L−1. A different trend was observed for AS, because its specific activity was strongly stimulated only in response to the 5 mg C L−1 humic solution, while it was slightly inhibited by the 1 mg C L−1 treatment.
The synthesis of Asn is in competition with that of Asp, Lys, Thr and Ile, which represent, together with the amino acids of the aspartate family [71], the main substrates for the synthesis of structural proteins and enzymes required for the optimal plant development [72]. However, Asn may also represent a transitory store of N to be later used to meet specific demands during plant growth [73]. Our results showed a significantly higher accumulation of Lys, Ile and Thr in leaves of seedlings grown with 1 mg C L−1 of HS in comparison to those observed in control plants that is in accordance with the higher content of soluble proteins measured in HS-treated leaves.
To deepen the understanding of molecular events underlying the HS effects on plant physiology, the expression of five genes encoding the enzymes involved in few key steps of N assimilation was evaluated. To discriminate N-dependent from N-independent molecular effects of HS, the transcript amount was measured in leaves of both nitrate-supplied and nitrate-depleted HS-treated seedlings. In this case, the choice of a 24-h treatment was aimed at evaluating the earlier molecular effects of humic matter. In fact, Trevisan et al. [40] showed that the gene transcription in response to HS is regulated already after a few hours of treatment.
Our findings show an increase of mRNA abundance of all genes therein studied upon HS treatment only when seedlings were grown in the presence of nitrate. On the contrary, HS did not induce any increase of transcript accumulation when the nutrient solution was depleted of nitrate. These results globally suggest that the enzyme stimulation observed after the humic supply may be generally regulated at the transcriptional level. An exception seems to be represented by the expression of the AS gene that was strongly induced after 24 h of treatment with 1 mg C L−1 solution, whereas the AS activity measured after 48 h was lower than for the control. This may be due either to a more rapid down-regulation of the AS activity in response to the duration of HS treatment or otherwise to the occurrence of some post-transcriptional regulatory mechanisms. Furthermore, since most of the genes analyzed are nitrate-responsive, it may be hypothesized that the HS regulation of the transcription of genes involved in nitrogen metabolism may be mediated by a nitrate-dependent signal, since HS' stimulatory effect is evident only when the nutrient solution contained nitrate.
Conclusions
Our results indicate a positive dose-dependent effect of the humic acid used here on the activities of the main enzymes involved in the reduction and assimilation of inorganic nitrogen. The enhanced bioactivity of HS may be explained with the tendency to increase the size of supramolecular aggregation of humic molecules with concentration [74] and the concomitant enhanced capacity to provide specific bioactive molecules to targeted root cell membranes [6].
Among all enzymes, only the AS showed a different trend of regulation in response to HS, possibly because of a competition of its own substrate with the biosynthesis of amino acids of the Asp family [75], thus favouring the accumulation of a large amount of Asn in seedling leaves treated with the greatest HS concentration. This is not surprising considering that Asn accumulation in young leaves is an indirect result of the restriction of protein synthesis when the metabolism is subjected to stress conditions [73]. While further studies should be certainly conducted to increase our understanding on the dose-response of HS, molecular findings suggest that the biochemical response to humic treatments may principally depend on a transcriptional mechanism of regulation, as previously hypothesized for the regulation of a maize isoform of H+-ATPase [34] and with a more holistic approach by Trevisan et al. [46]. However, the induction of a gene expression in response to HS seems to depend closely on the presence of nitrate in the growing medium because humic matter alone was not able to up-regulate the transcription of genes. These findings suggest that HS may act as an additional signal in the regulation of gene expression mediated by nitrate, by either promoting its bioavailability or interfering with the signalling pathway that leads plants to adapt their metabolism to the nutrient availability [64,76].
Declarations
Acknowledgements
This work was partially supported by the project COFIN 2003 no. 2003071271 funded by the Italian Ministry of University and Research (MIUR).
Authors' Affiliations
(1)
Department of Agronomy, Food, Natural Resources, Animal and Environment, University of Padua, Legnaro, Italy
(2)
Centro Interdipartimentale di Ricerca sulla Risonanza Magnetica Nucleare per l'Ambiente, l'Agro-Alimentare ed i Nuovi Materiali (CERMANU), Università di Napoli Federico II, Portici, Italy
(3)
Agriculture Department, Mediterranea University of Reggio Calabria, Reggio Calabria, Italy
Copyright
© Vaccaro et al.; licensee Springer. 2015
This is an Open Access article distributed under the terms of the Creative Commons Attribution License (http://creativecommons.org/licenses/by/4.0), which permits unrestricted use, distribution, and reproduction in any medium, provided the original work is properly credited.