Potential of three microbial bio-effectors to promote maize growth and nutrient acquisition from alternative phosphorous fertilizers in contrasting soils
Chemical and Biological Technologies in Agriculture
2017
4:7
Received: 30 August 2016
Accepted: 17 January 2017
Published: 13 March 2017
Abstract
Background
Agricultural production is challenged by the limitation of non-renewable resources. Alternative fertilizers are promoted but they often have a lower availability of key macronutrients, especially phosphorus (P). Biological inoculants, the so-called bio-effectors (BEs), may be combined with these fertilizers to improve the nutrient use efficiency.
Methods
The goal of this study was to assess the potential of three BEs in combination with alternative fertilizers (e.g., composted manure, biogas digestate, green compost) to promote plant growth and nutrient uptake in soils typical for various European regions. Pot experiments were conducted in Czech Republic, Denmark, Germany, Italy, and Switzerland where the same variety of maize was grown in local soils deficient in P in combination with alternative fertilizers and the same set of BEs (Trichoderma, Pseudomonas, and Bacillus strains). Common guidelines for pot experiment implementation and performance were developed to allow data comparison, and soils were analyzed by the same laboratory.
Results
Efficiency of BEs to improve maize growth and nutrient uptake differed strongly according to soil properties and fertilizer combined. Promising results were mostly obtained with BEs in combination with organic fertilizers such as composted animal manures, fresh digestate of organic wastes, and sewage sludge. In only one experiment, the nutrient use efficiency of mineral recycling fertilizers was improved by BE inoculation.
Keywords
BiofectorBio-effectorBio-inoculants Bacillus Pseudomonas Trichoderma MaizeOrganic fertilizerPGPRPhosphorusRecycling fertilizer
Background
To meet global demands for agricultural crops, farming systems in industrialized countries have undergone profound transformations. On the one hand, high application rates of synthetic fertilizers and manure together with the use of pesticides, irrigation, and short crop rotations have increased yields and have helped to reduce hunger in these countries [1]. On the other hand, modern high-input agriculture has created a multitude of environmental problems. In this context, groundwater pollution and the eutrophication of aquatic systems due to soil erosion and nutrient leaching and run-off from agricultural fields are of great concern [1, 2]. Additionally, the extensive use of synthetic fertilizers is contributing to climate change as fertilizer production and use cause significant greenhouse gas emissions [3]. Moreover, for some plant nutrients such as phosphorous (P), natural fixation processes in soil leads to a decrease in the efficiency of the fertilizers as only a fraction of the applied P fertilizer is taken up by plants. Depending on the soil pH and mineralogy, a considerable amount of P fertilizers gets either adsorbed to iron, aluminum oxides, or calcium and is no longer directly available to the plant [4]. Consequently, surplus fertilizer inputs are often maintained to meet the crop's demands. Finally, commonly used P fertilizers in modern agriculture are regarded as non-renewable resources with a limited supply, and the reserves are concentrated in a few countries around the globe [4, 5]. Hence, judicious use of the resource by effective recycling is required for long-term sustainability.
Today, increasing attention is being paid to the downside of high-input agricultural systems and much research is aimed at developing alternative ways to produce sufficient food in a sustainable and environmentally sound way. A number of different approaches have been investigated with the intention to reduce fertilizer inputs into agroecosystems, including breeding plant varieties with better P acquisition efficiency [6], fertilizer placement strategies [7], or application of soil organisms and natural extracts with plant growth-promoting potential [8–10]. These so-called bio-effectors (BEs) include plant growth-promoting rhizobacteria (PGPR) for instance Pseudomonas and Bacillus spp., as well plant-associated fungi, such as arbuscular mycorrhizal fungi (AMF) or Trichoderma spp. [11]. Moreover, BEs comprise non-living agricultural bio-stimulants (ABs) such as extraction products from macroalgae, compost, and plants [12]. The plant growth-promoting effect of BEs is based on different mechanisms, for example, the control of plant pathogens either by stimulation of the plant's defense mechanisms or by microbial antagonism [11, 13]. Some BEs induce plant growth by stimulating the plant's own hormone production such as auxins or cytokinins [13, 14], or by producing directly hormone-like compounds [15]. Regarding P acquisition, some BEs are associated with increased phosphatase activities in the soil [16–18] and have also shown the ability to liberate P from soil particles [9, 16, 19, 20] and from P-recycling fertilizers [21, 22]. Another important mechanism is based on the so-called "mycorrhiza helper" effect [23] which has been observed for many bacterial BEs [24]. This term refers to a stimulation of AMF which fulfill important functions regarding P uptake by plants.
Although BEs have shown the potential to promote plant growth, their effectiveness is influenced by numerous biotic and abiotic factors. Consequently, depending on the properties of the soil and the structure of the naturally occurring rhizosphere community, their plant growth-promoting effect has often shown limited reproducibility. As reported in Mosimann [25], soil properties such as pH can have impacts on the BEs' ability to exert plant growth-promoting effects. Moreover, the amount of total and plant available P seems to be a decisive factor for the performance of bacterial BEs [26, 27]. Also, competition with naturally occurring rhizosphere microorganisms can limit the survival of introduced BEs [28]. This indicates that more work is needed to unravel the conditions under which BEs can exert plant growth-promoting effects, in order to achieve more homogenous and predictable effects. With this new knowledge, specifically adapted BEs could be developed which might improve fertilizer use efficiency and decrease the dependence of agriculture on large external inputs of synthetic fertilizers.
Maize (Zea mays), a major crop globally, is particularly sensitive to low phosphorus availability [29] and has shown responsiveness to BE applications [30–32]. For this reason, maize was selected as the study crop to evaluate the potential of three BEs: the bacterial BEs Pseudomonas sp. DSMZ 13134 and Bacillus amyloliquefaciens FZB42 and the fungal BE Trichoderma harzianum T-22. We applied all BEs individually in combination with different organic and inorganic P fertilizers in order to study the impact of the different P sources on the BEs' ability to promote P acquisition and growth of maize. In order to shed more light on the impact of soil properties on the effectiveness of the applied BEs, we used six soils originating from different sites in Europe. We hypothesized that BE application improves plant P acquisition from soil and from recycling fertilizers, and that soil properties, e.g., pH and P levels (total P and plant available P), influence the effectiveness of the three BEs.
Results
The aboveground biomass was highly variable across the experiments (Fig.
1
). A two-way ANOVA on raw biomass data (Fig.
1
) for the negative (P0) and positive controls (TSP) without addition of BE (BE0) yielded highly significant effects of soil (P < 0.001) and P fertilizer (
P
< 0.001), as well as a highly significant interaction between the two factors (P < 0.001). In five out of six soils, there was a significant positive effect of TSP addition on the aboveground biomass (Fig.
1
, Tukey's test,
P
< 0.05). The Humpolec soil is the only soil not affected by TSP addition with regards to aboveground biomass production.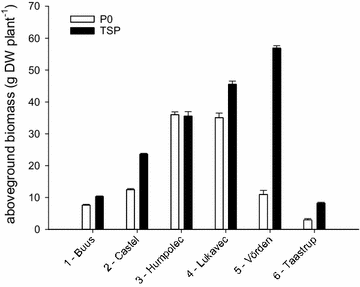 In absence of BE inoculation (BE0), plants responded differently to the addition of the various P fertilizers. This was true for normalized biomass (Fig.
2
), normalized P content (Fig.
3
), and normalized N content (Fig.
4
). The most effective fertilizers were the P-enriched BOF slag (Vörden trial) and in general the composted material from green wastes (FrDi, Comp-CH, Comp-D (see Table
4
for abbr.)) and sewage sludges from Denmark (incinerated or not).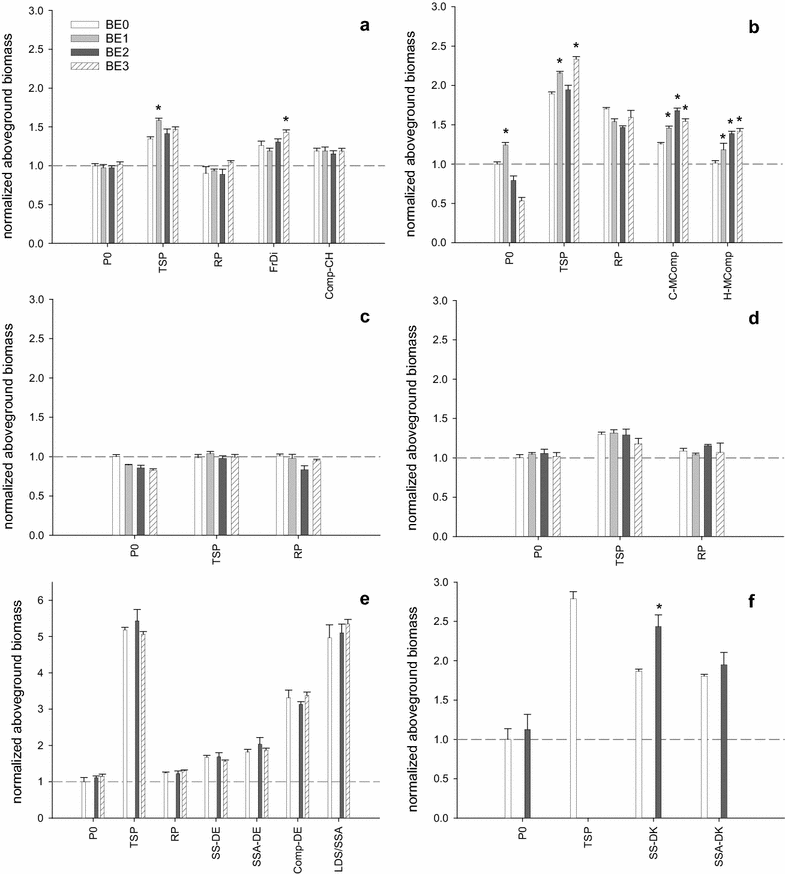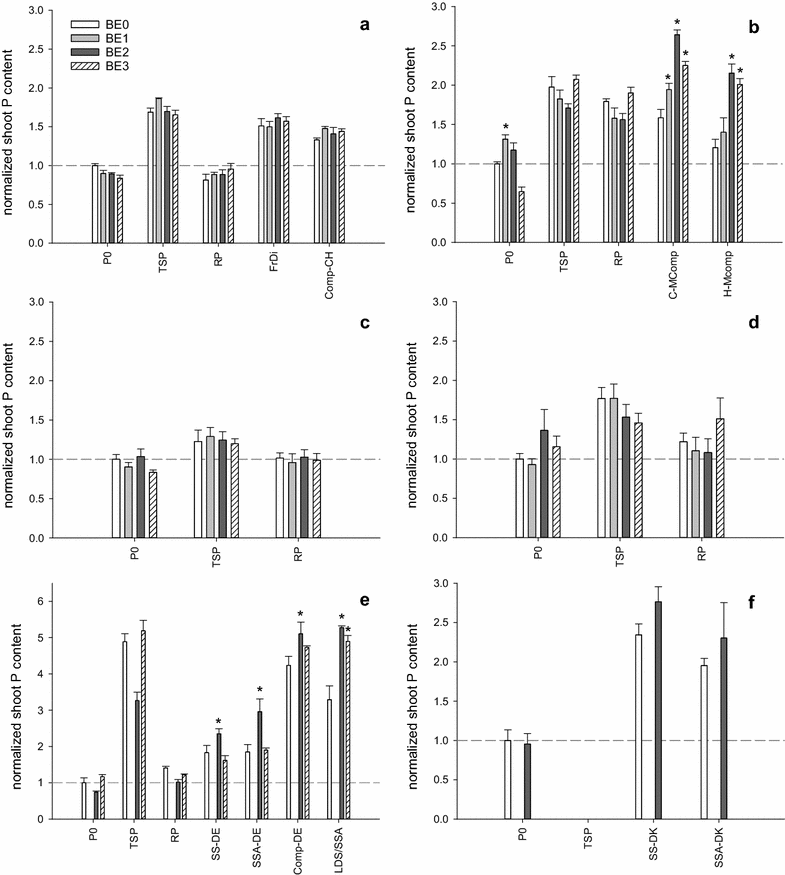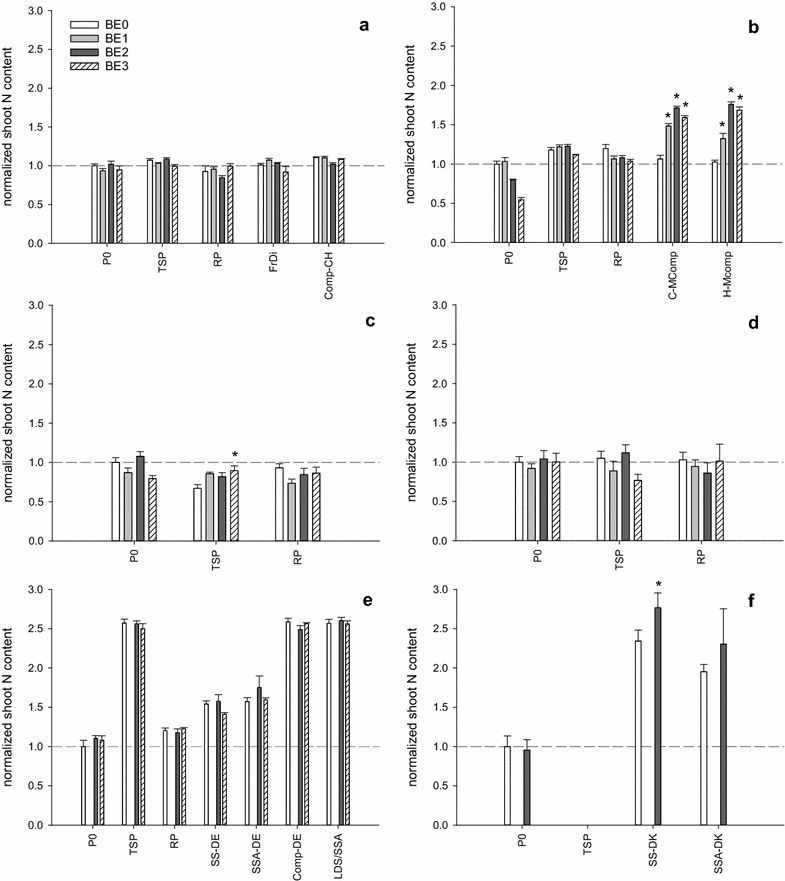 The following combinations of BE and P fertilizers resulted in a higher normalized shoot biomass (Fig. 2), when compared to the negative control treatment (BE0) receiving the same P fertilizer (treatments highlighted with an asterisk): BE1 combined with TSP in the Buus (Fig. 2a) and Castel soils (Fig. 2b); BE2 combined with sewage sludge in the Taastrup soil (Fig. 2f); BE3 combined with fresh digestate and TSP in the Buus (Fig. 2a) and Castel (Fig. 2b) soils, respectively; and all BEs combined with composted animal manures in the Castel soil (Fig. 2b). In the Humpolec, Lukavec, and Vörden soils, BE inoculation did not result in any increased normalized shoot biomass (Fig. 2 c–e).
Across the four experiments included in Table 6 (all except the two Czech experiments), BE inoculations induced an increase in shoot DW of 5–7.5%, as compared to un-inoculated controls (Table 6). For all three tested BEs, soil influenced the BE-derived increase in shoot biomass (P < 0.01). When looking across fertilizer types, the largest BE effects were observed in the Castel soil for BE1 (+12%), in the Taastrup soil for BE2 (+17%), and in the Buus soil for BE3 (8%). The factor "fertilizer type" significantly influenced the improvement in biomass when plants were inoculated with BE2 and BE3 (Table 6, P < 0.0001), but no such effect of "fertilizer type" was observed with BE1 (Table 6, P > 0.05). Furthermore, there was a significant interaction between "soil" and "fertilizer type" for all BE treatments (Table 6, P < 0.0001).
Across all soils, there was a significant positive effect of adding BE2 (+14%) and BE3 (+13%) when organic fertilizers were applied (Table 6, P < 0.05). For inorganic fertilizers, there was only a significant effect of BE3 (+7%, P < 0.05). When no fertilizer was added, none of the three BEs resulted in an improvement of the shoot biomass (Table 6, P > 0.05).
The normalized aboveground P content was significantly different between P fertilizers in all experiments (Fig. 3). In the Castel soil, inoculation with BE1 led to a significantly larger P content in the P0 and cow manure compost treatments, while inoculation with BE2 and BE3 resulted in an increased P content in both animal manure treatments (Fig. 3b). In the Vörden soil, inoculation with BE2 resulted in an increased P content when combined with any of the recycling fertilizers (Fig. 3e). In the remaining soils (Buus, Humpolec, Lukavec, and Taastrup), BE inoculation did not result in increased aboveground P contents. In the Castel soil, the higher P content due to BE2 addition (combined with cow and horse manures) is reflecting the significant increase in P concentration in the aboveground biomass (Table 7). BE3 increased P concentration only in the P0 treatment, while BE1 did not induce any P concentration increase. In the Vörden soil, where plants also accumulated more P in the aboveground biomass (Fig. 3e), P concentration was also higher (as compared to the corresponding BE0 control), but only when sewage sludge ashes were combined with BE2 and when P-enriched BOF slags were combined with BE2 or BE3.
The normalized aboveground N content (Fig. 4) showed less difference between P fertilization treatments than the normalized P content did (Fig. 3). Only in Vörden (Fig. 4e) and Taastrup (Fig. 4f) soils, a clear effect of P fertilizers on aboveground N content was observed. In the Castel soil, the effect of P fertilization depended on BE addition since we only observed a significantly larger normalized aboveground N content when pots had been inoculated with BEs 1–3 (Fig. 4b). In the Taastrup soil, a significantly higher aboveground N content was observed in plants inoculated with BE2 and when sewage sludge was used as fertilizer. In the Humpolec soil, we found a significant increase in aboveground N content due to inoculation with BE3, when TSP was used as P fertilizer (Fig. 4c). However, the recorded N content (Fig. 4c) in this treatment (TSP/BE3) was numerically smaller than in the negative control (P0/BE0). In the remaining soils (Buus, Lukavec, and Vörden), BE inoculation did not result in increased aboveground N contents.
Intensity of RLC % by AMF was only measured in roots of plants growing in the Buus and Castel soils (Fig.
5
). For un-inoculated treatments which were not amended with P fertilizer (BE0, P0), the two soils induced different levels of RLC % (87% for the Buus soil and 60% for the Castel soil). In the Buus soil, BE inoculation leads to either no change in RLC % or a decrease, especially for plants amended with TSP (Fig.
5
a). In contrast, the roots from the Castel soil had significantly higher RLC % in BE-inoculated pots, especially for BE3 (independent of P fertilizer applied) and for the combination of BE2 and animal manures (Fig.
5
b).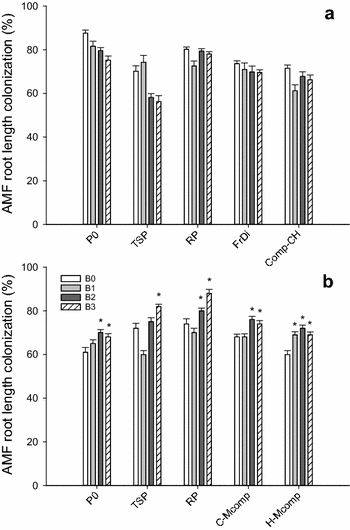 Discussion
Variable levels of soil fertility and harvested aboveground biomass (P0, BE0 and TSP, BE0)
Due to variation in the experimental setup (e.g., pot size and growth duration), different aboveground biomasses were harvested ranging from 4 to 36 g per plant in the negative control treatment (P0, BE0). The different increases due to TSP addition (TSP, BE0) indicated that soils had varying initial fertility levels (Figs. 1, 2) with the Czech soils (Humpolec and Lukavec) being the less depleted in P. Plants growing in the Vörden (DE), the Taastrup (DK), and, to a lesser extent, in the Castel (IT) soil, were obviously P limited (increase between 2- to fivefold due to TSP addition), while the plants in the Buus (CH) soil showed a moderate P increase (1.6-fold). The same response to TSP addition was observed with spring wheat with the Vörden and Taastrup soils [45], where a similar experimental setup was used. The Taastrup soil originates from a long-term field trial where no nutrients have been added for approximately 50 years [46], thereby explaining the response to application of easily available P sources. The Castel soil was taken from an alkaline site where native P is largely bound in calcium complexes. The Buus soil is from an organic field site where the plant available P fraction is indeed low (P CAL = 6.5 mg P/kg), but with a large organic P fraction (data not shown) which likely contributed to P supply during the experiment causing a moderate response to TSP addition.
Conclusion
We have observed that in our experiments, the most responsive soils for the three tested BEs were either alkaline or highly depleted in nutrients, and that a positive effect of the BEs was dependent on an input of P fertilizer under these conditions. Of all tested fertilizers, the combination of BE with organic fertilizers (in particular composted animal manures) was the most promising. Nevertheless, the combination of BE and organic fertilizers was not always improving biomass production or P uptake (e.g., Buus soil). The next challenge will be to understand what properties of organic fertilizers make them more compatible with a given BE and how this interacts with soil parameters, such as soil pH, soil microbial activities, organic matter content, and soil P and N status. Regarding the mechanisms, the results from this study suggest that the three BEs likely improved root growth (volume of soil explored for nutrients uptake) and P mobilization via accelerated mineralization, whereas chemical P solubilization likely took place in very few cases. Although higher mycorrhizal RLC% were observed upon inoculation with the three BEs in the alkaline soil of Castel, it remains to be determined if this was the principal mechanism contributing to improved P acquisition and aboveground biomass in that experiment.
Clarification of mechanisms together with new experiments with more diverse soils and characterization of BE-compatible fertilizers will give further insights about the window of conditions leading to successful use of BEs in agriculture. Nevertheless, our results show which kind of soils and fertilizers type is more responsive to BE inoculation.
Declarations
Authors' contributions
The study was elaborated by PM, GN, AP, AdN, MK, MR, VC, MW, and CT. The experiments were performed by SS, CT, CM, FW, MR, MK, JSDL, and VC. The manuscript was written by CT, JSDL, and DK. All authors read and approved the final manuscript.
Acknowledgements
This study was funded by the European Community's Seventh Framework Program 662 (FP7/2007–2013) under Grant Agreement no 312117 (BIOFECTOR) and by CORE Organic II (FP7 ERA-NET) under the Grant Agreement no 249667 (Improve-P).
Competing interests
All authors confirm that they have no competing interests in any of the products tested in this work, or any results presented in the manuscript.
Availability of data and materials
Raw data may be available on request to the authors, please contact corresponding author.
Consent for publication
All the authors consented for publication.
Open AccessThis article is distributed under the terms of the Creative Commons Attribution 4.0 International License (http://creativecommons.org/licenses/by/4.0/), which permits unrestricted use, distribution, and reproduction in any medium, provided you give appropriate credit to the original author(s) and the source, provide a link to the Creative Commons license, and indicate if changes were made. The Creative Commons Public Domain Dedication waiver (http://creativecommons.org/publicdomain/zero/1.0/) applies to the data made available in this article, unless otherwise stated.
Authors' Affiliations
(1)
Soil Sciences Department, Research Institute of Organic Agriculture FiBL, Frick, Switzerland
(2)
Department of Plant and Environmental Sciences, University of Copenhagen, Copenhagen, Denmark
(3)
CERMANU-University of Naples Federico II, Naples, Italy
(4)
Department of Agro-environmental Chemistry and Plant Nutrition, Czech University of Life Sciences, Prague, Czech Republic
(5)
Agrofutura AG, Brugg, Switzerland
(6)
Institute of Crop Science 340h, University of Hohenheim, Stuttgart, Germany
(7)
Institut für Baustoff Forschung, Duisburg, Germany
(8)
Agroscope Reckenholz, Zurich, Switzerland